Less than a week into his settlement with the SEC over alleged securities law violations relating to his tweets, Tesla CEO Elon Musk took to Twitter to voice his displeasure with the SEC with this tweet: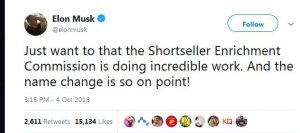 Interestingly, in a speech that Liz will blog about next week, Steve Peikin – Co-Director of the SEC's Enforcement – noted a few days ago that one of the remedies that the SEC obtained is a requirement that Tesla add an experienced securities lawyer to its legal department (see the 4th undertaking associated with fn 8; note that requirement wasn't noted in the SEC's press release). I can tell you that Tesla has had one of those already for years. And it doesn't strike me that Musk is the kind of guy that will listen to his lawyers…
According to news reports, Mark Cuban urged Musk to settle. You may recall that Cuban battled the SEC for years over alleged insider trading – and then Cuban even showed up at the annual "SEC Speaks" conference afterwards. And I even had my own touch of fame after I blogged about Cuban's settlement and he tweeted at me…
New "Disclosure Simplification" Rules: Effective November 5th
Yesterday, the SEC's "Disclosure Simplification" rules were published in the Federal Register. They'll be effective November 5th. I blogged last week about transition issues. We continue to post memos in our "Fast Act" Practice Area…
Shareholder Approval: SEC Approves Nasdaq's "Private Issuances" Rule Change
As noted in this Cooley blog, the SEC has approved Nasdaq's rule change for shareholder approval of certain private issuances.
– Broc Romanek