Yesterday, Corp Fin added to its "CF Disclosure Guidance Topic" series with "Topic No. 10: Disclosure Considerations for China-Based Issuers." It summarizes risks and corporate law & reporting differences that the may be unique to companies that are based in or have the majority of their operations in China – and lists questions for these companies to consider when drafting disclosures.
Corp Fin's disclosure guidance isn't completely unexpected. In August, I blogged about recommendations from the "President's Working Group on Financial Markets" – a regulatory council whose members include SEC Chair Jay Clayton and Treasury Secretary Steven Mnuchin. The recommendations included the adoption of more specific disclosure requirements – or interpretive guidance – about the risks of investing in companies from "non-cooperating jurisdictions" like China.

The working group also recommended enhanced listing standards to ensure PCAOB access to audit work papers for Chinese companies. This Bloomberg article says that the SEC is planning to move forward with that initiative and might issue a proposal before year-end that could result in many China-based companies being delisted. Adoption of any proposal would then be left in the hands of the new SEC Chair – whoever that ends up being.
"Human Capital" Disclosure: SASB Sums Up Its Resources
Yesterday, SASB published this 10-page "Human Capital Bulletin" – which summarizes elements of SASB standards that can help companies prepare human capital disclosure as required by the recent amendments to Reg S-K. Here's what it includes:
• A list of SASB industry standards that contain topics and metrics related to human capital.

• An overview of selected human capital-related topics and metrics across all 77 SASB industry standards – specifically, standards on labor practices; employee health & safety; employee engagement, diversity & inclusion; and supply chain management

• A summary of SASB's Human Capital Management Research Project, which has the objective of identifying opportunities for the SASB Standards to further account for human capital-related risks and opportunities
The new Human Capital Bulletin follows updates last week to this statement from the SASB Investor Advisory Group. The statement – which hadn't been updated since the Investor Advisory Group was formed in 2016 – urges companies to include SASB-based disclosures in their ESG communications to investors and now emphasizes that other reporting standards and frameworks may complement SASB standards, but aren't replacements for them. Also see this SASB press release.
For more tips on human capital disclosure, make sure to tune in to our upcoming webcast, "Modernizing Your Form 10-K: Incorporating Reg S-K Amendments," on Tuesday, December 8th, 2020 at 11am Eastern (note, this is an earlier time of day than most of our webcasts). If you attend the the live version of this program, CLE credit is available in the following 10 states:
CA, FL, IL, NC, NJ, NY, PA, TX, VA, WA.

Members of this site are able to attend this critical webcast at no charge. If not yet a member, try a no-risk trial now. For this program, the webcast cost for non-members is discounted to $295 – which will count toward your 2021 membership rate should you decide to subscribe to TheCorporateCounsel.net before the end of this year. You can renew or sign up for a no-risk trial online – or by fax or mail via this order form. If you need assistance, send us an email at info@ccrcorp.com – or call us at 800.737.1271.
Thanksgiving: Different Look, Fresh Gratitude
Thanksgiving is looking different this year for a lot of folks. As I count my blessings, this community looms large. I'm grateful to get to connect with you all from afar – nerding out on corporate governance, securities and ESG, and sharing the highs & lows of work and life in general. Hopefully what we do around here is also making your work lives a little easier in the midst of everything that's been happening this year. Thank you to everyone who follows this blog, subscribes to our sites, speaks at or attends our events, and reaches out with interesting stories, tips and questions. We couldn't do it without you!
Now, on to the recipes, since John is handling the blog tomorrow and we've got to keep up our streak of "foodie blogs." I plan to be feasting on more leftovers this year than usual. This article from the Kitchn will help you turn one turkey into 9 freezer meals to enjoy in the weeks and months ahead.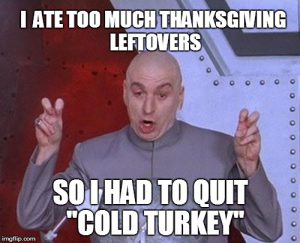 – Liz Dunshee