We've blogged a lot about the BRT's redefined "statement of corporate purpose." Many are frustrated that the topic is getting so much attention, given that the vast majority of directors & companies already view themselves as catering to multiple stakeholders in order to achieve long-term value. I blogged recently on "The Mentor Blog" about that disconnect and the resulting communications opportunity. One tangible thing that some companies are doing – regardless of whether their CEOs signed the BRT statement – is adopting a "statement of purpose" that shows the link between the company's strategy and its consideration of stakeholder groups.
Last week, Prudential went one step further and also announced a "multi-stakeholder framework" that supports the company's updated statement of purpose – and shows how the board considers shareholders, employees, customers and society. The press release emphasizes the board's role in the stakeholder commitments and says that the company will report on the progress of its purpose-driven goals in its annual & sustainability reports. Here's the infographic: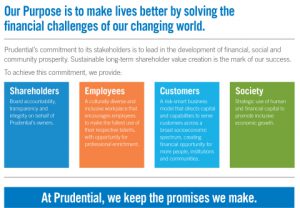 We'll be covering more on this issue during our January 21st webcast – "Deciphering 'Corporate Purpose.'" Join us to hear Morrow's John Wilcox, Freshfields Bruckhaus' Pam Marcogliese and Morris Nichols' Tricia Vella discuss what the debate over "shareholder primacy" means for directors' fiduciary duties and corporate accountability, and how companies can effectively set & communicate "stakeholder" commitments.
ESG Ratings Draw Nearly Universal Contempt
If there's one thing that most people in our community can agree on, it's that the proliferation of "ESG" ratings and funds is causing frustration and confusion. However:
ESG scores can play a key role in determining whether fund managers or exchange-traded funds buy a stock, how much companies pay on loans, and even if a supplier bids for a contract. They can also help verify whether a bond is really "green" or if a company is eligible for a stock benchmark. Investments in about $30 trillion in assets have relied in some way on ESG ratings.
That's according to this recent Bloomberg article, which cites an MIT working paper. But ratings are difficult to compare and can vary widely. And the variation in how they're employed – by "ESG" funds, in particular – only compounds the problem. Maybe that's why the SEC is reportedly looking into these investors:
The SEC initiative is based out of the agency's Los Angeles office, according to a person familiar with the matter. It has focused on advisers' criteria for determining an investment to be socially responsible and their methodology for applying those criteria and making investments.

One letter the SEC sent earlier this year to an investment manager with ESG offerings asked for a list of the stocks it had recommended to clients, its models for judging which companies are environmentally or socially responsible, and its best- and worst-performing ESG investments, according to a copy of the letter viewed by The Wall Street Journal. It follows a similar examination letter sent last year to other asset managers, suggesting the regulator decided to broaden its examination.
It's not clear what the end game would be for this type of examination. Increased disclosure? A standardized reporting framework? That's a concept I've blogged about for companies. The EU already requires large companies to report on their sustainability policies – and within the next couple years will also encourage indexes and benchmark providers to disclose their ESG methodologies (see this White & Case memo and this Bloomberg article).
Government Shutdown Averted!
Good news – the Staff will be returning to work later this week. Congress passed spending bills that the President has now signed, averting a shutdown and keeping the federal government funded through next September. Here's a short CBS News article about it.
Last year around this time, the government began what ended up being the longest shutdown in history. The SEC went down to a "skeletal staff" for most of January – which put companies in a real bind when it came to negotiating with shareholder proponents, trying to get through the registration process and resolving any Corp Fin comments.

We were blogging about it almost daily (here's one of the later ones) – and fielded many posts in our "Q&A Forum." For a reminder about what that was like at the SEC, see Broc's blog about the deep hole Corp Fin found itself in after the shutdown and my blog wondering whether the shutdown led to Corp Fin reconsidering the Rule 14a-8 no-action request process.
– Liz Dunshee