A long, long while back, I blogged about the creation of the SEC's new "Division of Risk, Strategy and Financial Innovation" and noted that the nickname may be an acronym (which wound up as "RiskFin"). Some members back then took the ball and ran with it – one member voted for a nickname of "RSFE" pronounced "ris-fee" or "riskfee." Another wanted a name change to "Division of Risk, Innovation (Financial) and Strategy," aka Division of RIFs. One said it sounds eerily close to Riski.org, cool new open-source platform. As I blogged six years ago, that Division has now changed its name to the "Division of Economic & Risk Analysis," with a nickname of "DERA."
In that blog, I answered a bonus question of when was the Division of Corporation Finance formed. In response to that, some members noted that there were several divisions before the 1942 birth of Corp Fin, in which Staffers reviewed registration statements – including the "Division of Registration" which was formed in 1935. Old-timers out there, keep 'em coming…
A member reported this a while back: "Thought you'd be amused that when I imported your old podcast regarding the impact of FASB codification on SEC filings into iTunes, Apple classified it as "Blues" music! Such is the life of a corporate lawyer."
Online Legal Training for New Lawyers: Compare the Pricing…
This blog about a new site offering legal training cracked me up in a few ways. First of all, this type of training is exactly what we've been doing both on TheCorporateCounsel.net – and DealLawyers.com – now for some time. And I haven't sampled the stuff from the new site, but I'm willing to wager without seeing it that our stuff is much more practical.
And secondly, check out the new site's pricing! Here's an excerpt from the blog about that:
For a 1000-lawyer law firm, the first topic is $14,000 with the price dropping to $9,000 per topic if the firm subscribes to all six ($45,000). For a 500-lawyer firm, the all-in price is $27,000. For a 100-lawyer firm, the price is $9,000. On a per lawyer basis, this provides larger firms with a slight pricing discount ($45/lwyr for 1000-lawyer firm, $90/lwyr for 100-lawyer firm, $500 for solo practitioners or a 1-person legal department).
Wow! Compare that to the pricing for our popular "In-House Accelerator" Training on this site. That's free for members of TheCorporateCounsel.net (and it's popular not just with folks that are in-house, but also with those in firms that want to learn how to think like they're in-house). And our "Deal U. Workshop" over on DealLawyers.com isn't free for members of that site – but ours is much cheaper (and includes copies of the "Deal Tales" Paperbacks – a three volume set)…
California Dreaming…
Saw this picture that Jim McRitchie posted of a California license plate: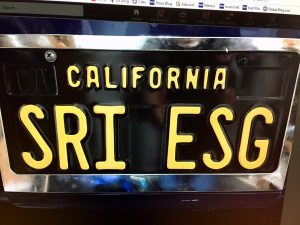 – Broc Romanek