Big hat tip to Sean Dempsey for sending me this awesome receipt – stamped by the SEC – acknowledging the filing of a Form 8-K by his company, W.R. Grace in 1953: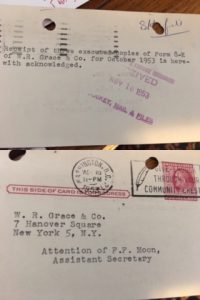 I love hearing stories from old-timers about making filings before Edgar was born. Personally, I remember being on the Corp Fin Staff in the '80s & going outside to get a little fresh air on days that happened to be 10-Q or 10-K filing deadline days. The line of FedEx trucks went on for blocks. I barely noticed…
Another Cool License Plate!
Check out this license plate from Jim McRitchie, who has run the "CorpGov.net" website forever (his wife is part-Hawaiian; hence the turtle-themed plate holder):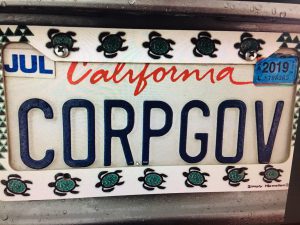 More on "The Mentor Blog"
We continue to post new items daily on our blog – "The Mentor Blog" – for TheCorporateCounsel.net members. Members can sign up to get that blog pushed out to them via email whenever there is a new entry by simply inputting their email address on the left side of that blog. Here are some of the latest entries:
– Board Evaluations: How They Are Evolving
– Multi-Class Companies: CII Appeals to Delaware
– Crisis Management: Public Relations Considerations
– D&O Insurance: Outlook for 2020
– Gov. Investigations: Key Questions When You Get An Investigative Request
– Broc Romanek