'Tis the season for the "Big 4" accounting firms to weigh-in on Corp Fin comment priorities. Earlier this month, we blogged about EY's take on the topic – and now Deloitte's weighed in with its own study on Corp Fin comments for the 2016-2017 review period.  The study found that the top 10 areas for comments were:
– Non-GAAP measures
– MD&A
– Fair value
– Segment reporting
– Revenue recognition
– Intangible assets & goodwill
– Income taxes
– State sponsors of terrorism
– Signatures, exhibits & agreements
– Acquisitions, mergers & business combinations
The list includes plenty of the usual suspects, but one of these things is clearly not like the others – here's what the study says about comments addressing state sponsors of terrorism:
This category is new to the top 10 this year. The SEC staff has increased its focus on registrants that do business with countries designated by the U.S. State Department as state sponsors of terrorism, including Iran, Sudan, and Syria. SEC staff comments focus on disclosure about (1) the nature and extent of these contacts and (2) quantitative and  qualitative factors about such activities.
The study includes examples of comments that the Staff has issued to companies disclosing business in these countries.
More on "Farewell to Corp Fin Giant, Bill Morley"
Recently, I blogged that Bill Morley passed away. We now have information about his memorial: "Glory Days Restaurant" in Edgewater, Maryland – this Friday, December 1st from 6-10 pm. It's informal in a private room. Please RSVP to Marty Dunn if you (& others you know) plan on going as they need a head count.
Here are a few more remembrances:
– Marty Dunn, who worked with Bill for several decades, notes: "From the day I arrived at the SEC in 1988, I knew what the goal was. It was to be Bill. He had the '33 and '34 (and '39) Act in his being. He understood them all. Their purpose was in his soul. He taught us all so much while being so humble. He said to me 'our job is important, we're not.' That always stuck with me. Mr. Carter and Mr. Morley were incredible mentors & teachers. There is an entire generation of Corp Fin lawyers who appreciate their contribution to our careers. Bless you, Bill."

– Paul Dudek, who left Corp Fin after 22 years last year, notes: "Thanks for sharing the sad news about Bill, and the stories and the picture. He was outstanding in so many ways, as a person, as a securities lawyer, as a manager, and much more. I think at some level he was a model for me staying in Corp Fin for so long, a shining example of how to carry out the mission of investor protection through full and fair disclosure, and all the corollaries ‎to that simple statement, through thick and thin."

– Stan Keller notes: "Here's one outside perspective on Bill. For so many of us practicing on the outside, Bill was for so long the face of the SEC and a good one at that. Bill treated you as a professional with respect and was always willing to listen to your position and share his vast knowledge of the law and the lore with you. You knew that you would get a fair hearing and a thoughtful, considered response. We learned a lot about securities law from Bill in this way and we learned about the agency. Bill helped instill the Corp Fin Staff ethic of the SEC as being a service agency, which continues to this day. We remember him with fondness, respect and appreciation."
Farewell to Mort Koeppel
I'm also sad to report that Mort Koeppel also passed away recently. Mort retired in the early '80s as an Associate Director in Corp Fin after 40 years at the SEC. He lived nearly another 40 years, passing away at 98. His son – Jeff Koeppel – who also served in Corp Fin a while back. Here's a picture of Mort's branch back in the day: (seated) Mort Koeppel; (standing, left to right) Bill Carter, Joe Hock, Becky Fleck, Alan Cohen, Jim McCabe, Paul Belvin, Letty Lynn, Mark Warner, Tom Klee & Laurence Lese: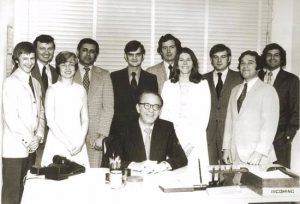 – Broc Romanek