One of the giants from Corp Fin passed away earlier this week – Bill Morley. One of those rare gems that spent their entire career in the government, Bill served in various roles in Corp Fin over his 30 years – but he's mostly remembered for being the Chief Counsel. One of his many roles was serving as the final arbiter of the shareholder proposal no-action letter process. Bill was considered "fair" by both sides. Not an easy feat to accomplish.
Here's a remembrance from John Huber, who was Corp Fin Director in the '80s: "He was my Chief Counsel after Peter Romeo went into private practice. As Chief Counsel, he was on top of no-action letters (reviewing each one before it went out), monitoring telephone calls/interps and keeping up-to-date with operations & rulemaking. At meetings when I asked what he thought, he would sometimes tell the group what the "least worst alternative" was. All that with the kindness & friendliness of a person who was indefatigable, never lost his temper and always cared about protecting investors. One of the best examples of the Corp Fin family."
Bill retired in 1999. One of those guys that got pushed out by the Internet. Bill never wrote a single email – he didn't want to learn new technologies. And when he was cleaning out his office, I walked by and realized there were boxes & boxes of historical documents sitting in his trash (we saved that stuff). Bill wasn't sentimental about leaving at all. He was truly ready to enjoy life. To attend as many U. of Maryland lacrosse games as he could.
A year after retirement, Bill agreed to edit my new shareholder proposal treatise. Fifteen years of informal positions taken by Corp Fin where all up there, in his head. We met once a week for six months – I simply downloaded knowledge that no one else could match. The man sure knew his stuff. I've always treasured that time we spent together – such wonderful stories. There are no memorial plans yet – I will blog when we know more about that.
Here's a 16-minute podcast that I taped with Bill in 2011, as he discussed his life in retirement – including:
– How did you wind up at the SEC?
– How do you recall the shareholder proposal process?
– Did you enjoy recruiting & hiring?
– What are among your fondest memories?
– What are you doing now?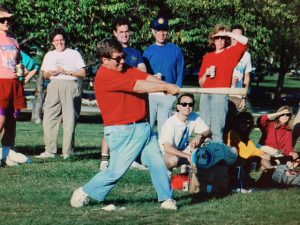 – Broc Romanek