Given that its the 20th anniversary of when the SEC delivered this report to Congress about the impact of technology on the securities law, I thought it would be a good time to explain how I became the main "Internet" guru in Corp Fin back in late '90s. The story involves reviewing the first CD-ROM prospectus as told in this 6-minute podcast.
If you search the term "script" in this amended registration statement for Ameritrade's 1997 IPO, you will see video was included in a CD-ROM that was attached to the paper prospectus. The CD-ROM was considered part of the prospectus – and the script was appended at the end of the printed prospectus.
I have pictures of the print prospectus & CD-ROM on my fairly lame Pinterest page – and Ameritrade recently posted the video itself! The video features numerous members of senior managers and explains how the company operates. Love the use of the Netscape browser! [Here's my blog about my video regarding "how to file video on Edgar."]
As noted in this blog, you might recall David Westenberg telling us that the 1st multimedia prospectus was the 1985 IPO of Kurzweil Music Systems – the printed prospectus was polybagged with an audiocassette. This was before the SEC had guidance on what to do with multimedia, so there were no lessons learned…
1997 Congressional Report: Impact of the Internet on the Securities Laws
Let me briefly explain that report to Congress about the impact of technology on the securities law. It was mandated as part of NSMIA. With Meredith Cross & Mauri Osheroff reviewing my work, I wrote the section relating to the Internet and public companies.
At the time, I printed off hundreds of pages of screen shots involving the first time that a pioneering company did something online. The firsts! I literally knew everything going on with public companies online – because there wasn't all that much happening. In 1997, even large major companies were building their own websites for the very first time.
The Internet was so new that when I eventually landed at RR Donnelley as a marketing & sales guy (after a stint in-house at Lockheed Martin) – and sold them a website called "RealCorporateLawyer.com." My title had the term "Internet" in it because that was so novel!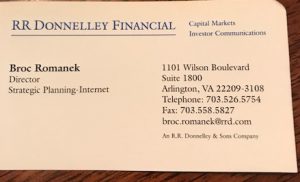 Broc & John: Impact of Technology on Securities Laws
In this 6-minute podcast that John & I taped a while back, we discuss the impact of technology on the securities laws & old dogs.
This podcast is also posted as part of my "Big Legal Minds" podcast series. Remember that these podcasts are also available on iTunes or Google Play (use the "My Podcasts" app on your iPhone and search for "Big Legal Minds"; you can subscribe to the feed so that any new podcast automatically downloads…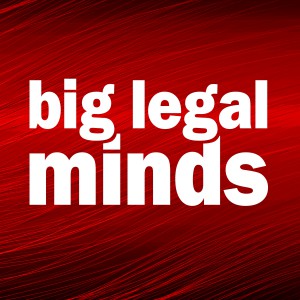 – Broc Romanek