If I had a dollar for every time someone asks me whether Edgar is down, I would be able keep my grand old '73 Chevy Caprice convertible (soon to be sold after many years of service). This has been at the top of my wish list for some time: that the SEC alert folks when Edgar is down (& when it's back up). Yesterday, the SEC's site was down for long stretches – and Edgar was down too (sometimes not in unison).
The SEC could solve this problem by giving its Edgar folks their own blog – and using its popular Twitter handle (which has 233k followers) to give us the news. If the SEC's entire site is down, an Edgar blog doesn't help. But Edgar often is down when the SEC's site is up.
Edgar has outages more often than you would think (so this diatribe isn't focused just on a day when most of the Internet was down). And I would argue that Edgar is one of the most important assets that the SEC has. If the entire SEC site is down – isn't that worth a tweet? Today, the SEC has an unprecedented note on it's home page about the site being down yesterday…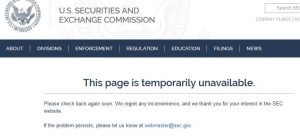 Tomorrow's Webcast: "Hot Tabulation Issues for Your Annual Meeting"
Did the snafu at the Oscars pique your interest in this topic? Tune in tomorrow for the webcast – "Hot Tabulation Issues for Your Annual Meeting" – to hear independent inspector Carl Hagberg and Broadridge's Chip Pasfield and Anthony LaPoma sort out the basics – and the hot developments – related to inspecting and tabulating votes at annual shareholder meetings.
Our March Eminders is Posted!
We have posted the March issue of our complimentary monthly email newsletter. Sign up today to receive it by simply inputting your email address!
– Broc Romanek – still employed (but the day is young)…