E-Minders March 2014
---
In This Issue:
E-Minders is our monthly e-mail newsletter containing the latest developments and practical guidance for corporate & securities law practitioners.
We view TheCorporateCounsel.net as the gathering place for the community and encourage those who may not yet be members to take advantage of a No Risk Trial to see what you are missing. Here are 10 Good Reasons to try us now.
You can subscribe below to receive a complimentary E-Minders subscription - even if you don't subscribe to TheCorporateCounsel.net. Our hope is that once you get to know us, you will understand the true value of a subscription to TheCorporateCounsel.net. Note that subscribers to TheCorporateCounsel.net should sign up below for E-Minders too, as we don't have the e-mail addresses for many people in our community.
Early Bird Expires Soon! Our Pair of Popular Executive Pay Conferences: We just posted the registration information for our popular conferences - "Tackling Your 2015 Compensation Disclosures" & "11th Annual Executive Compensation Conference: Say-on-Pay Workshop" - to be held September 29-30th in Las Vegas and via Live Nationwide Video Webcast on TheCorporateCounsel.net. Act now for the early bird discount - which expires March 14th - to get as much as 33% off!
The full agendas for the Conferences are posted—but the panels include:
– The Latest from the SEC
– Preparing for Pay Ratio Disclosures: How to Gather the Data
– Pay Ratio: What the Compensation Committee Needs to Do Now
– Case Studies: How to Draft Pay Ratio Disclosures
– Pay Ratio: Pointers from In-House
– Navigating ISS & Glass Lewis
– How to Improve Pay-for-Performance Disclosure
– Peer Group Disclosures: The In-House Perspective
– In-House Perspective: Strategies for Effective Solicitations
– Creating Effective Clawbacks (and Disclosures)
– Pledging & Hedging Disclosures
– The Executive Summary
– The Art of Supplemental Materials
– Dealing with the Complexities of Perks
– The Art of Communication
– The Big Kahuna: Your Burning Questions Answered
– The SEC All-Stars
– Hot Topics: 50 Practical Nuggets in 75 Minutes
Upcoming Webcasts on TheCorporateCounsel.net: Join us on March 6th for the webcast - "Conduct of the Annual Meeting" - to hear Melissa Caen of the Southern Company; Shelly Dropkin of Citigroup; Carl Hagberg of The Shareholder Service Optimizer and Wendy Mahling of Xcel Energy explain how they handle the many challenges of running an annual shareholders meeting.
And join us on April 30th for the webcast - "Latest Developments in IPOs & Capital Raising" - to hear Jocelyn Arel of Goodwin Procter; Steve Bochner of Wilson Sonsini; Dave Lynn of TheCorporateCounsel.net and Morrison & Foerster; and David Strong, Partner of Morrison & Foerster explore the latest developments in IPOs and raising capital, including all the various alternatives, such as "Up-C" IPOs, PIPEs and registered direct offerings, "at-the market" offerings, equity line financings and rights offerings.
And join us on May 21st for the webcast - "Big Changes Afoot: How to Handle a SEC Enforcement Inquiry Now" - to hear Dixie Johnson of King & Spalding; Chris Mixter of Morgan Lewis and Linda Chatman Thomsen of Davis Polk get us up to speed on the latest about the SEC's Enforcement Division and provide practice pointers on what approaches work for many different types of investigations that exist today.
There is no cost for these webcasts if you are a member of TheCorporateCounsel.net. If you are not a member, take advantage of our no-risk trial to access the programs. You can sign up for this no-risk trial online, send us an email at info@thecorporatecounsel.net - or call us at 925.685.5111.
Upcoming Webcasts on DealLawyers.com: Join us on March 4th for the webcast - "M&A Litigation: The View from Both Sides" - to hear Robbins Geller's Randy Baron, Wilson Sonsini's David Berger, Grant & Eisenhofer's Stuart Grant and Morris Nichols' Bill Lafferty analyze the latest wave of M&A litigation that has permeated nearly all deals. This program features two lawyers from the plaintiff's side - and two from the defense perspective.
And join us on April 2nd for the webcast - "Rural/Metro and Claims for Aiding & Abetting Breaches of Fiduciary Duty" - to hear Kevin Miller of Alston & Bird; Brad Davey of Potter Anderson; Stephen Bigler of Richards Layton & Stephen Kotran of Sullivan & Cromwell as they discuss a case expected to have a dramatic impact on the viability of claims for aiding and abetting breaches of fiduciary duty in connection with M&A transactions.
No registration is necessary - and there is no cost - for these webcasts for DealLawyers.com members. If you are not a member, take advantage of our no-risk trial to access the programs. You can sign up online, send us an email at info@deallawyers.com - or call us at 925.685.5111.
Upcoming Webcast on CompensationStandards.com: Join us on March 11th for the webcast - "The Top Compensation Consultants Speak" - to hear Mike Kesner of Deloitte Consulting, Blair Jones of Semler Brossy and Ira Kay of Pay Governance "tell it like it is. . . and like it should be."
No registration is necessary - and there is no cost - for this webcast for CompensationStandards.com members. If you are not a member, take advantage of our no-risk trial to access the programs. You can sign up online, send us an email at info@compensationstandards.com - or call us at 925.685.5111.
---
Debunking the "SEC as Insider Traders" Study: SEC Staffers Ain't Driving Ferraris
Last week, a new study by an accounting professor and a doctoral student became a minor media darling as it shows that stock trades by SEC Staffers produce abnormal returns. Here is something that Broc blogged:
Here are the study's two findings, which I'll quote from the bottom of page 1: "We find that at least some of these SEC employee trading profits are information based, as they tend to divest (i) in the run - up to SEC enforcement actions; and (ii) in the interim period between a corporate insider's paper-based filing of the sale of restricted stock with the SEC and the appearance of the electronic record of such sale online on EDGAR." [Here's my 4-minute video on "5 Reasons Why 'SEC Staff as Insider Traders' Study Is Bogus."]
The Mass Media Blindly Eats It Up
Even though there are a kabillion studies every year, this one was reported by one media outlet - and a few others followed like lemmings. Some were really out of hand such as this one entitled "The SEC Should Really Start a Hedge Fund." That articles notes there were 4k trades in individual stocks - over a period of 2.25 years - made by 4k staffers and claims it was excessive trading! Really? An average of one trade per Staffer over two years is excessive? Journalism today! If I report it, it must be true.
How the Study Was Conducted
Anyways, let's go ahead and analyze the study. The authors were able to obtain data of the trades made by all Staffers over this 2-year period - but not the identity of the traders. This means they couldn't tell if an individual trader made or lost money in a transaction - nor whether those trading worked in jobs where they might have advance knowledge of actions that could move a stock price.
Those are pretty big limitations - but yet this professor is telling reporters: "It does suggest it is likely, or probable, that something is going on." Pretty damaging thing to say. Hopefully, it's based on some knowledge of how the SEC's ethical rules work - and how SEC Staffers are (and aren't) permitted to trade? Yeah, right. At the bottom of page 3 of the study, the authors say "Insiders file open market transaction records with the SEC every month." Um, the Section 16 rules were revised over a decade ago requiring Form 4s to be filed within 2 business days of the trade. Clearly, this accounting professor & student don't know much about the SEC's rules. Anyways, let's forget that we're not dealing with securities law gurus and get to the meat...
The SEC Staff's "Form 144" Informational Advantage? A Real Laugher!
I'm gonna deal with the study's second finding first because it's so ridiculous. The authors completely don't understand Form 144s - which are still required to be filed on paper - and the timing of when they are filed. As noted on page 24-25 of the study, they think that the Staff gets access to the information on them before the same data is filed on Form 4s on EDGAR. They think Staffers are running down to the Public Reference Room in the SEC's basement to look at the lone filing cabinet containing the paper filings of Form 144s (I recently visited that filing cabinet and no one ever visits it; a separate blog on that is forthcoming).
In fact, the real world is that the complete opposite happens! That's one of the reasons we submitted this rulemaking petition to the SEC a few months ago asking that the agency require electronic filing of Form 144 (and thus we would have joint Form 4/144 filings). In our petition, we argue that the Form 144s for insiders are currently useless because the information they contain typically has already been filed on Form 4s!
5 Reasons Why SEC Staffers Aren't Routinely Trading on Enforcement Action Developments
Let's get to the heart of the other part of the study - trading in the "run up" to Enforcement actions. Here are five explanations that could debunk the theory that SEC Staffers are insider trading - there probably are more, but five should be enough to give someone pause before saying something that would needlessly damage the agency's reputation:
SEC Staffers Forced to Sell Financial Services Stocks After Join the Staff - SEC Staffers are not allowed to hold financial-related stocks - but those restrictions only kick in after they join the agency. That means that there is a steady stream of sales of financial stocks as new employees join. The study shows just that: SEC employees sell financial stocks much more than they buy them, and more than other types of stocks. If over the period in the study, financial stocks underperform the broader market (as they did, returning -5% while the market grew by +24%), a virtual portfolio that net sells financials would outperform a baseline portfolio. [I got this one from a comment on a news article.]

In other words, there is a sell-side bias in the SEC's trading due to forced divestment - so comparing the percentage of sell transactions by the SEC Staff to the 50% figure for the market as a whole (a pretty trivial figure, because the market as a whole has to balance buys and sells or else the market wouldn't clear) is not very meaningful.

"Need to Know" Culture Severely Limits Opportunities - Having worked at the SEC twice - and in a role dealing with a lot of Enforcement actions - I can tell you that very few Staffers have access to how a particular investigation is going. All employees have access to a database showing all of the investigations - but the ratio of investigations that appear in that database compared to ones that ultimately go anywhere probably is in the 50-to-1 range. On page 10 of the study, the authors note that the SEC has 4000 open investigations at a time.

If an Enforcement Staffer comes across anything suspicious, they will open a "Matter Under Investigation" (known as a "MUI") - but in most cases, these MUI's don't go anywhere. Sort of like a sales lead. Over the course of a month, a salesperson might have hundreds of leads, but maybe pursue only a few dozen - and close only two sales. So having knowledge that a MUI exists is fairly meaningless. Which means that this statement on page 5 of the study is without a basis: "While many bureaucratic government positions provide opportunities for access to privileged information on which the bureaucrat can trade profitably, few agencies provide such opportunities with the regularity of the SEC."

The SEC has rules to safeguard confidential information - so knowledge about the details of specific matters and facts are limited to those working on the matter. So only those 2-3 persons in Enforcement actively working an investigation will be the ones who know whether a particular case might be going anywhere. And there are all sorts of investigations that wouldn't move a stock price even they became publicly known (eg. garden variety insider trading case). The real market movers are the financial fraud cases - and there are not that many of those cases brought by the SEC. A handful each year.

Enforcement Staff Knows They Are Under Surveillance - When you join the SEC and you see how the Market Surveillance Unit in Enforcement can so easily catch folks who conduct trades based on illegal material nonpublic information, you become amazed that anyone would be so stupid to try to insider trade. This Unit investigates all trades with abnormal returns - that is, all trades just before a major announcement. While not everyone on the Staff is a genius, there are very few who would be dumb enough to engage in one of those abnormal trades when they are so aware how closely other SEC Staffers are looking at them.

If SEC Staffers Really Wanted to Profit, They Wouldn't Sell - They Would Buy - Generally, stock prices go up once settlements with the SEC are announced since that ends the uncertainty which the market detests. If a SEC Staffer has inside knowledge about a pending settlement, why would they sell? Yet, the study is mostly about Staffers profiting from selling.

SEC Staffers Should Know The Market Better - This one is from King & Spalding's Russ Ryan: It should not be surprising that people who are so interested in the securities markets - and who devote their entire careers to the subject matter - are likely to be better educated, sophisticated, and able to understand risks, disclosures, and financial records than the average bear. By analogy, I suspect that on average, high school varsity athletes do better at fantasy sports than the student body at large, and no rational person would suspect cheating based on that correlation.
The Bottom Line: Irresponsible Academics & Journalists
I'm not saying it's not possible that a few rogue Staffers somehow work the halls and find out information that allow them to trade favorably. This would involve breaking the SEC's ethics rules, which happens occasionally rarely. If more than a handful of SEC Staffers truly were doing this, news would have leaked well before this.
The bottom line is that the notion that there is more than a tiny fraction of the SEC staff that would risk their jobs and reputations like this is absurd. The SEC Staff typically come in two types (with many hybrids): Those who hope to work there for a long time - and those who hope some day to parlay their experience into a higher paying job in the private sector. Getting caught at insider trading would be so obviously fatal to either path that it is virtually inconceivable that someone would take that risk, especially knowing what a unique media feeding frenzy would accompany any discovery of insider trading by a Staffer of the very agency that polices it.
So let's take this study means with a lot of salt please. It's mind-boggling to me that a professor would take the time to slug through all this data and draw up some conclusions without doing any research into the subject matter and considering a variety of possible explanations. I'm not as surprised about the mass media not bothering to ask anyone with real knowledge to verify the study - as I gave up on most journalists a long time ago...
More on the Bogus Study: A Possible Sixth Reason
And here's another possible explanation for the study results that is more subtle that I received from a member:
This possible explanation would require a bit of research. With respect to the six companies that are featured in Table 3 (Bank of America, General Electric, Citi, Johnson & Johnson, JP Morgan, and General Electric), measuring sales 30, 45, 60, and 90 days before the announcement of the SEC's enforcement action may tell you little or nothing about an SEC Staff "informational advantage" if those companies had already publicly disclosed the SEC investigation during one of those time periods, or even before them, as many companies do these days.
If a company has already disclosed the investigation, and particularly if it has disclosed a Wells notice or an agreement in principle to settle the SEC matter, then the SEC enforcement case would already be reflected in the market price of the stock by the time the SEC got around to publicly announcing the case, negating an "informational advantage" for the SEC Staff.
In that situation, you also would be particularly likely to see the "uncertainty-ending" upward bounce that you suggest below. Needless to say I have no idea what you would see if you looked at SEC Staff transactions 30-90 days before the company's disclosure of the SEC matter, but the data wouldn't be the same as the data the authors present, and also would be measured by an event that the Staff couldn't control, which also would blunt the "informational advantage" that the authors seem so confident about.
---
Risk Factors for This Proxy Season? Cybersecurity & Conflict Minerals
Broc recently field a question in our "Q&A Forum" - #7944 - about trends in new risk factors for this proxy season. He noted that some companies are revisiting their cybersecurity risk factor is light of the Target situation and the other security breaches in recent months.
Brink Dickerson of Troutman Sanders also noted that he is a bit surprised that more companies are not including conflict minerals risk factors. While he doubts that the conflict mineral disclosure regime is material, or that the failure to comply will in the early years have significant consequences, it is a big enough issue with some socially responsible investors and special interest groups that he was expecting to see more Form 10-K disclosure. Here is an example of a risk factor that he has suggested as a starting place:
The Company is subject to recently adopted SEC disclosure obligations relating to its use of so-called "conflict minerals" - columbite-tantalite, cassiterite (tin), wolframite (tungsten) and gold. These minerals are present in a significant number of the Company products. The disclosure obligations are complex, and there is little formal guidance with respect to their application. The first reports under the disclosure obligations are due to be filed with the SEC not later than May 2014 and cover the Company's activities during 2013.
Although the Company expects to be able to file the required report on time, in preparing to do so it is dependent upon the implementation of new systems and processes and information supplied by its xxx+ suppliers of products that contain, or potentially contain, conflict minerals. To the extent that the information that it receives from its suppliers is inaccurate or inadequate or its processes in obtaining that information do not fulfill the SEC's requirements, the Company could face both reputational and SEC enforcement risks.
He also expected to see more references in Item 1 or elsewhere to the existence of conflict minerals policies.
And then Dave Lynn added: I think another take on the conflict minerals disclosure that I have seen is that efforts to comply with the disclosure rules and to otherwise implement conflict-free sourcing policies is the extent to which changes to the supply chain can disrupt existing supply sources or cause more uncertainty with respect to the company's supply chain. You could also envision how this might be relevant for the description of Business and perhaps MD&A as well depending on an issuer's particular circumstances.
---
Cybersecurity: SEC Calendars a Roundtable
In mid-February, the SEC announced that it will hold a March 26th roundtable to discuss cybersecurity and the challenges it raises for market participants and companies, and how they are addressing those concerns.
---
Shareholder Proposals: Chevedden Loses Missouri "False & Misleading" Case
In mid-February, a federal court judge in Missouri issued this summary judgment order against John Chevedden for including false & misleading statements in his proposal. As Broc blogged last month, this case was one of a few filed earlier this year against John - and the first time a judge has ruled against John outside of Texas.
Obviously, Broc's prediction that John would win this case was dead wrong (his theory was the Corp Fin staff normally allows proponents to correct false & misleading statements before granting an exclusion request). In this case, the judge ruled that four statements were demonstrably false based on the company's public filings and didn't give an opportunity to cure.
Meanwhile, a new lawsuit was filed by EMC recently against Chevedden on 'proposal by proxy' grounds in a federal court in Massachusetts. Here is the complaint, posted in our "Shareholder Proposals" Practice Area...
---
Mandatory Auditor Rotation: PCAOB Gives Up The Ghost
When Broc blogged in early February about the SEC approving the PCAOB's budget, as noted in this CFO.com piece, he forgot to mention the big news! In response to a question from a SEC Commissioner, PCAOB Chair Jim Doty stated that his pursuit of mandatory auditor rotation is dead. In comparison, as I blogged earlier, the European Union has approved new rules that mandate auditor rotation every 10 years...
---
Corp Fin Updates Financial Reporting Manual (Again)
In early February, Corp Fin indicated that updated its Financial Reporting Manual for issues related to critical accounting estimate disclosures for share-based compensation in IPOs. Here's a description from E&Y:
The SEC staff in the Division of Corporation Finance updated its Financial Reporting Manual to say that companies may be able to scale back their disclosures in management's discussion and analysis (MD&A) relating to events and business developments that affected their estimates used to value stock-based compensation awards granted before the company's initial public offering (often referred to as "cheap stock" disclosures). The revised guidance also states that, while the SEC staff will continue to issue comments to help it understand unusual valuations, the staff will not expect expanded disclosure in MD&A related to the underlying events and business developments that affected such valuations.
The updated FRM states that companies should continue to disclose all of the following:
- The methods used to determine the fair value of the company's shares and the nature of material assumptions used in determining the fair value
- The extent to which such estimates are considered highly complex and subjective
- That such estimates will not be necessary for new awards once the shares begin trading
The new language in the FRM reflects the SEC staff's focus on helping companies reduce disclosure overload.
---
Off & Running: 1st Say-on-Pay Failure of the Year
As noted in its Form 8-K, a nano-cap company, CSP is the first company holding its annual meeting in 2014 to fail to gain majority support for its say-on-pay with only 42% voting in favor.
---
AOL CEO's "Distressed Babies" Snafu: What Is The Board's Role?
Maybe because AOL is close to home, but Broc has been fascinated by AOL CEO's Tim Armstrong's insensitive explanation for a change to the company's 401(k) matching contributions that has dropped him into hot water. Probably "incensed" is a better term - but Broc also is fascinated because he wonders what AOL's directors are thinking and doing. They themselves must be getting asked by loved ones and colleagues about this miscalculation because it is a media - and social media - hailstorm.
Here's a 4-minute video that Broc put together on what the board might be thinking. It addresses these three issues:
1. When (& Should) Board Discuss?
At what point does a CEO's communication snafu reach:
- Emergency board meeting threshold
- Regular board meeting threshold
- What can a board do anyways (besides dismissal)?
2. Should Board Care About the Media?
To what extent should media coverage impact board's action:
- Should board obtain all news items?
- Should board receive social media summaries?
- Can board receive social media summaries?
3. Should Board Care About Employee Morale?
- To what extent should employee morale impact board's action:
- Should board distinguish between 401(k) cut & snafu?
- How can board gauge employee reaction?
- Should it?
---
Private M&A Brokers: SEC Provides Broker-Dealer Relief
On the DealLawyers.com Blog, Broc blogged that - in a significant departure from prior guidance, the SEC's Division of Trading and Markets issued a no-action letter - entitled "M&A Brokers" - that permits a person giving advice on M&A deals to receive transaction-based compensation under certain conditions without having to register as a broker-dealer. Note that the no-action letter is subject to numerous conditions, some of which may limit its utility, including the limitation that it only relates to the sale of privately held companies and that the M&A broker may not directly or indirectly through its affiliates provide financing for an M&A transaction. Here's some analysis from Keith Bishop and many other memos posted on DealLawyers.com...
---
Majority Voting: Toronto Stock Exchange Makes It Mandatory!
Here's news from Glass Lewis' blog (and here's another article):
After nearly a year and a half of radio silence on the topic of majority voting, the Toronto Stock Exchange ("TSX") announced on February 13th that it would proceed with amendments to the TSX Company Manual mandating that TSX issuers adopt majority voting.
The amendments, which were given the go-ahead by the Ontario Securities Commission, require that issuers, other than majority-controlled companies, be elected by a majority of the votes cast with respect to their election other than at contested meetings. This new mandate will apply to companies with fiscal year ends from June 30, 2014 on, and as such, will likely have little impact on the 2014 proxy season, particularly since roughly 80% of TSX issuers had already adopted a majority voting policy by their 2013 annual meetings.
Nonetheless, the new requirement puts Canada one step ahead of the United States, where plurality voting remains permissible and relatively common. The move represents a significant milestone for the Canadian Coalition of Good Governance ("CCGG"), which has been pushing for mandatory majority voting for over six years and provided some of the language for revised TSX Company Manual. The CCGG has made clear that its majority voting rally isn't over yet, as it continues to lobby the TSX Venture Exchange for the same corporate governance enhancement.
The new mandate certainly represents a step forward, but still falls somewhat short of the "true majority" voting policy that Glass Lewis prefers, as, pursuant to the new TSX policy, directors that fail to receive majority support from shareholders are not required to step down unless the other board members accept their resignation. However, thanks to the aforementioned language provided by the CCGG, where a director fails to receive majority support "the board shall accept the resignation absent exceptional circumstances," and, "if the board determines not to accept a resignation, the news release must fully state the reasons for that decision." These detailed requirements will certainly force the board to take the resignation decision seriously, as boards will be more directly accountable in cases of continued board membership despite majority opposition.
---
Survey Results: Conflict Minerals
We have just posted these recent survey results on conflict minerals:
1. We are a downstream company (ie. uses minerals in design/manufacture) required to conduct a "reasonable country of origin inquiry" (RCOI) and our process is:
- Engage 1st-tier suppliers with questionnaire; review responses; check any smelters identified against independent verified lists; no further action if no reason to believe from responses received (even if less than 100% response rate) that the conflict minerals may have originated in the covered countries - 65%
- Engage 1st-tier suppliers with questionnaire; review responses; check any smelters identified against independent verified lists; for unresponsive suppliers, perform further engagement (including 2nd-tier and above) - 25%
- No direct engagement with suppliers; rely solely on smelters identified on independent verified lists - 0%
- Outsource entire process to 3rd-party service provider & rely on their conclusions - 0%
- Other - 10%
2. We are a downstream company that sends questionnaires to 1st-tier suppliers and they're non-responsive/unable to answer completely and our next step is:
- Nothing, we're done - and will disclose that we have no reason to believe that conflict minerals may have originated in the covered countries - 3%
- Further engage 1st-tier supplier (eg. calling, e-mails) but not 2nd-tier supplier, etc. - 82%
- Further engage 1st-tier supplier, 2nd-tier supplier, etc. - 10%
- Other - 5%
3. If you choose "a" in #2 above, would you consider the company to have satisfied its RCOI obligation:
- Yes - 24%
- No - 38%
- Depends on what others are doing - 14%
- Not sure - 24%
4. Are you taking measures to ensure that your RCOI covers new products manufactured by the company up until December 31st:
- Yes, we have controls to monitor for new products with conflict minerals on a real time basis - 22%
- Yes, we have controls to monitor for new products with conflict minerals on a quarterly basis - 11%
- Yes, we have controls to monitor for new products with conflict minerals on a semi-annual basis - 16%
- Yes, we perform our RCOI once per year as of December 31 - 24%
- No, we perform our RCOI earlier in the year and do not worry about scanning for new products through December 31 - 27%
5. Has your company adopted a conflict minerals policy:
- Yes, we are adopting one responding to the new rule - 51%
- Yes, we had one prior to the new rule - 0%
- Yes, we had one prior to the new rule, but have updated it for the new rule - 0%
- No, but we're considering it - 33%
- No, and we don't plan to - 15%
6. If your company had to perform Step 3 of the new rule, how long did it take (soup-to-nuts)
- 0-3 months - 4%
- 3-6 months - 19%
- 6-9 months - 23%
- 9-12 months - 23%
- More than 12 months - 31%
Please take a moment to anonymously participate in our "Quick Survey on Proxy Drafting Responsibilities & Time Consumed" and "Quick Survey on D&O Questionnaires and Director Independence."
---
Broadridge's Latest Changes to Interim Tally Policy for Proxy Contests Called Off!
In mid-February, no sooner did Broc blog about a new Broadridge interim vote tally policy for proxy contests on the DealLawyers.com Blog than he got word that Broadridge decided to reverse its decision and stick with its old policy. Broadridge's change was to provide each side of a proxy contest with early voting results relating only to their own proxy card - but after receiving strong pushback, they decided: "Upon further internal review, Broadridge will not be implementing the change announced last week. Both sides of a proxy contest will continue to receive interim voting updates for their own and each other's ballot." Broadridge is trying to maintain a neutral stance - but that is challenging given the factors it faces.
To be honest, Broc is not quite sure where Broadridge stands with its policy that came under fire last proxy season when it tried to reverse course in the midst of a campaign related to a "split the CEO/Chair positions" shareholder proposal at JPMorgan. Last he heard, the policy was under review even though JPMorgan had backed down and allowed interim tallies to continue to be provided to the co-proponents - although this blog I wrote in July indicates that Broadridge was not providing interim tallies to shareholder proposal proponents anymore. However, he thought that the SEC or other regulators might weigh in and there could be further change. Does anybody know? Unfortunately, its policies are not posted on their website.
Anyways, here is a 4-minute video Broc slapped together trying to explain Broadridge's role and the policy saga to date.
---
Wait a Minute! Is the JOBS Act's Confidential Filing Process Really So "Stealthful"?
Sigh. This top story in the NY Times' Business section in mid-February was titled "'The New Normal' for Tech Companies and Others: The Stealth I.P.O." The piece was reacting to GoPro's confidential S-1 submission (here's their Rule 135 notice), noting that:
Companies like GoPro are taking advantage of a provision in the 2012 JOBS Act that allows a company to file with the Securities and Exchange Commission but withhold from the public significant information about its finances until just before shares are sold to the public.
When Twitter filed confidentially, we went down this road before. I blogged back then that 21 days seemed like plenty to digest a S-1 - and cited a New Yorker piece that noted that 21 days used to be the norm back in the day.
The NY Times wasn't the only one to highlight GoPro's confidential filing - there were others such as this article. Meanwhile, if you don't know anything about GoPro, check out the vids on their site (in this article, The Telegraph picks the Ten Best of the Year). Cool!
A few months ago, Broc ran a poll asking you how many weeks should Form S-1 be publicly available before an IPO. Here are the results:
- 6 weeks - 5%
- 5 weeks - 2%
- 4 weeks - 13%
- 3 weeks - 33%
- 2 weeks or less - 43%
- What's an IPO? - 3%
---
Exclusive Forum Bylaws: Chevron Seeks Delaware Supreme Court Certification
Even though the plaintiffs have decided not to appeal the Delaware Chancery Court's decision that upheld the use of exclusive forum bylaws, as noted in this article, Chevron asked a California judge in late January for a similar case to be certified to the Delaware Supreme Court to bring more certainty to the use of exclusive forum bylaws. A hearing on this certification case is scheduled for March 13th.
Our recent webcast - "Exclusive Forum Bylaws: What Now?" - was superb; plus we have lots in our "Exclusive Forum Bylaws" Practice Area. Meanwhile, Katten Muchin's Claudia Allen has put together this report for The Conference Board that examines the trends in exclusive forum bylaw adoption since the Chevron/Fed Ex cases in June '13 to the end of October '13, finding:
Companies adopted (the report contains a list): - 112 Delaware companies adopted or have announced they will (19 were S&P 500 companies), 18 Maryland companies or REITs, 4 in PA, 2 in Nevada, 2 in Oregon and 1 each in Florida, S. Carolina, Tx and VA.
Specific provisions analyzed:
- 65% included elective language (the board may consent to an alternate forum)
- 43% provided that the Delaware Court of Chancery is the exclusive forum; 34% provide that if the specified court (usually the Delaware Court of Chancery or a "state court" in Delaware) lacks subject matter jurisdiction, jurisdiction will vest in another Delaware state or federal court; and 23 percent take the Chevron approach of specifying the state and federal courts in Delaware.
- 35% require that the court have "personal jurisdiction over the indispensable parties named as defendants." 13% state that the specified court or courts shall have exclusive jurisdiction "to the fullest extent permitted by law."
- 65% provided for deemed consent (anyone having stock in the company are deemed to have consented to the provision)
- 4% provide that a company shall be entitled to injunctive relief and specific enforcement; 4% include severability language; 1 provision specifies that the forum provision is solely procedural in nature.
IPO companies:
- 11% were adopted in connection with IPOs, 2% in connection with reincorporation, 1% with a spin-off and 1% during emergence from bankruptcy.
- Of the 12 IPO companies analyzed, surprisingly only 4 included the provision in both the charters and bylaws. 1 announced it will ask shareholders to vote on it.
---
The Other Exclusive Forum Bylaw Case: Charter Case Dismissed Without Written Opinion
Last year, Broc blogged that a case had been brought against Edgen Group, a Delaware corporation with an exclusive forum provision in its charter. It is believed that the judge in this Louisiana case has dismissed the lawsuit without a written opinion...
---
Take Two Video: "The SEC's Disclaimer"
Did you know that the disclaimer that SEC Staffers give when they speak is actually required by law? Broc recently learned that on his own even though he gave that disclaimer many times when he spoke in his capacity as a Staffer. Here is a 1-minute video about the disclaimer's origins - he tried to inject some humor at the end…
---
Your Conflict Minerals Toolkit! January-February Issue of The Corporate Counsel
Dave & the gang did a yeoman's job for the January-February issue of The Corporate Counsel that was just mailed, putting together a group of sample documents to go along with their analysis of complying with the new conflict mineral rules. The issue includes:
- Memorandum on Conflict Minerals Compliance
- Framework for the Analysis
- Conflict Minerals Policy
- Form SD and Conflict Minerals Report
Act Now: Get this issue rushed to when you try a 2014 No-Risk Trial today.
---
More on our "Proxy Season Blog"
We continue to post new items regularly on our "Proxy Season Blog" for TheCorporateCounsel.net members. Members can sign up to get that blog pushed out to them via email whenever there is a new entry by simply inputting their email address on the left side of that blog. Here are some of the latest entries:
- Majority Support Prompts Verizon Bylaw on Proxy Access
- How to Update D&O Questionnaires for "Bad Actors"
- New Defensive Tactic Leads to Negative Recommendations for Director Elections
- 2014 Proxy Season Checklists
- Group of 70 Investors Pressure Companies to Assess Climate Change
- Survey: Directors Split on Governance Engagement
---
More on "The Mentor Blog"
We continue to post new items daily on our blog - "The Mentor Blog" - for TheCorporateCounsel.net members. Members can sign up to get that blog pushed out to them via email whenever there is a new entry by simply inputting their email address on the left side of that blog. Here are some of the latest entries:
- "Collective" Shareholder Engagement: Launch of UK Investor Forum
- Does a Former Director Have Standing to Demand Books & Records?
- FINRA's Annual Priorities Letter
- How Many Ways Can the SEC Describe a "Year"?
- How a Tweet Undermined a Drugmaker at a Medical Conference
- Director Firings: War Stories
- Whistleblowers Can Now File Complaints Online With OSHA
- Non-Public Portions of Deloitte's '08 Inspection Report Released
- More on "Bylaw Amendment Could Deter Dissident Directors"
- SEC Enforcement: Talking the Talk, But Walking the Walk?
---
People: Who's Doing What and Where
At the SEC, Stephen Luparello was hired from WilmerHale to serve as the Director of the Division of Trading and Markets. Acting Director John Ramsay announced he was leaving the SEC.
Paul Leder was rehired to serve as the Director of the SEC's Office Of International Affairs. Paul served in OIA back in the '90s before he went into private practice.
And the other big news is that the SEC finally hired the Investor Advocate, a new position created by Dodd-Frank. Rick Fleming is moving over from NASAA (the state securities regulators association) where he serves as Deputy General Counsel. Before that, he spent 20 years in Kansas state government including their securities regulator. I imagine Rick will begin hiring staff for his new office once he's in place.
As Broc blogged back in 2010 when this new Office was mandated, he's a little confused about what the role of this new office will be given that the entire SEC has the mission of investor protection. Not to mention that an "Office of Investor Education and Advocacy" already exists - and an "Investor Advisory Committee" was created in 2009...
Celebrity Sighting! Mark Cuban Goes to SEC School
Mark Cuban takes in a securities law conference! News at 11! As noted in this DealBook article, Mark was tweeting up a storm during PLI's "SEC Speaks" on Friday. Wearing a grey hoodie, Mark apparently sat through the entire day. Impressive stamina!
Here is a handful of Cuban's tweets during the conference: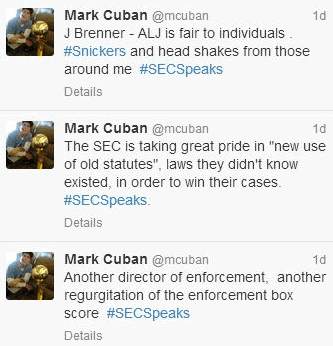 You might recall Broc had his own run-in with Cuban on Twitter last month, as noted in this blog...
Corp Fin: Betsy Murphy's Grand Return!
In mid-February, the SEC announced Betsy Murphy is rejoining Corp Fin to serve as the Associate Director who oversees the Offices of Rulemaking, Small Business Policy & Enforcement Liaison. Betsy was the Chief of Corp Fin's Office of Rulemaking for 10 years before moving over to serve as the Secretary of the SEC, a post she held for 5 years. Betsy is a great catch and I'm sure those in Corp Fin are excited to see her back...
Corp Fin's New Chief Counsel: David Fredrickson
In mid-February, Corp Fin coaxed David Fredrickson to leave the SEC's Office of General Counsel and serve as its Chief Counsel and Associate Director. David has been the chief OGC liaison to Corp Fin for over 15 years and knows Corp Fin's rules & regulations well. I worked with him on a number of rulemakings in the late '90s - and you couldn't meet a nicer guy.
Farewell to Sandra Folsom Kinsey
Broc is sad to inform you that Sandra Folsom Kinsey recently passed away. Sandra worked at Hogan Lovells twice, both before and after a 12-year stint in Corp Fin during the '90s and early '00s, where she primarily worked in the Office of International Corporation Finance. She was a real sweetheart and we will miss her. She was married to Walt Kinsey, who also worked at the SEC. Here is an obituary, that also has a guest book.
---
Conference Calendar
---
What's New on Our Websites
Among other new additions, during the last month we have:
Interviewed a number of experts for Inside Track on TheCorporateCounsel.net, CompensationStandards.com and DealLawyers.com, including:
Posted the following:
---
Your Input, Please
Please let us know what you like - and don't like - so we can tailor TheCorporateCounsel.net to be more of a hands-on resource for you and your colleagues.
Because we view TheCorporateCounsel.net as a "community" site, let us know if you would like to contribute content to our site. E-mail comments, suggestions and other input to broc.romanek@thecorporatecounsel.net.
How to Receive this E-minders E-Newsletter Each Month
If you are not yet a member of TheCorporateCounsel.net, we encourage you to take advantage of the special offer and enter a no-risk trial, particularly with all of the changes we will all be facing in the months ahead. Email us at info@thecorporatecounsel.net or call us at 925.685.5111 for more information.
You also have our permission - and indeed are encouraged - to forward this issue of E-Minders to anyone that might not yet benefit from it. In the alternative, you can sign them up to receive E-minders each month by going to http://www.thecorporatecounsel.net/E-minders/listmanager.asp - then, input an email address, check the box to receive it each month and click "Submit."
Current members of TheCorporateCounsel.net receive this newsletter as one of their benefits of being part of the community if we have their email address. You can provide your email address to broc.romanek@thecorporatecounsel.net or sign up on the web page as noted above.
To no longer receive these E-Minders newsletters, go to http://www.thecorporatecounsel.net/E-minders/listmanager.asp, input your email address, check the box to no longer receive it and click "Submit."
(c) 2014 Executive Press.
This email newsletter is provided for informational purposes only and does not constitute legal advice. Executive Press is not engaged in rendering legal or other professional services. Publication of this newsletter is not intended to create, and the information contained herein does not constitute, an attorney-client relationship. Do not act or rely upon the information and advice given in this publication without seeking the services of competent professional counsel. You may decline to receive further email solicitations from us by sending an email to info@thecorporatecounsel.net or contacting us at Executive Press, PO Box 21639, Concord, CA 94521-0639