Below are the results from our recent survey on board portals:
1. When it comes to board portals, our company:
– Doesn't have one and isn't considering using one in the near future – 3%
– Doesn't have one but is considering whether to use one – 13%
– Adopted one within the past two years – 16%
– Adopted one more than two years ago – 68%
2. For those with board portals, our company:
– Licensed an off-the-shelf portal – 94%
– Built it in-house – 0%
– Hired a service provider to build a custom portal – 6%
3. For those with off-the-shelf board portals, we have:
– Asked whether our vendor has ever had a security breach – 13%
– Investigated our vendor's security – 70%
– Plan to investigate our vendor's security in the near future – 10%
– Not worried about our vendor's security – 7%
Take a moment to participate in our "Quick Survey on 'What is a Perk?'" and our "Quick Survey on Annual Meeting Conduct."
Reminder: Keep Cautionary Language Up-to-Date
Check out this D&O Diary blog (& this Mintz Levin blog and Reuters article) about a recent decision in Harman International Industries Securities Litigation, in which the US Court of Appeals for the DC Circuit held that – despite cautionary language – the "safe harbor" under the PSLRA for forward-looking statements was not applicable for certain statements. The ruling noted that "safe harbor" protection was not available because the cautionary language was misleading in light of historical facts and was not tailored to the specific forward-looking statements the company made. The Court's decision serves as an important reminder to keep cautionary language up-to-date. Here's an excerpt:
The PSLRA safe harbor was designed to facilitate dismissal of challenges to forward-looking statements at the pleadings stage, before any discovery. But as Harman shows, even on a motion to dismiss, courts will take a hard look at the cautionary language and dismiss the complaint only if the cautionary language truly is meaningful. That means eschew boilerplate, be specific, don't misstate historic facts and, above all, update your language as things change.
See also this blog that looks at the risks of disclosure post-PSLRA. Here's an excerpt:
What role does public disclosure by a defendant firm play in the outcome of securities fraud class actions? In a recent article we study this question and find when a defendant firm discloses more via press releases and conference calls, it is more likely to experience an adverse outcome in litigation. While the possibility of private legal liability likely improves the quality and integrity of disclosure, it may also make firms reluctant to release information to financial markets. These compelling findings should be of interest to companies and legal practitioners as they evaluate corporate disclosure decisions and policies, as well as to legal scholars and lawmakers by improving our understanding of the relation between disclosure and private litigation.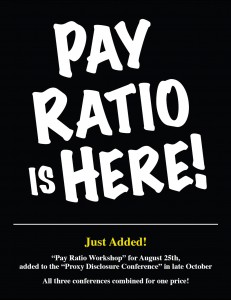 – Broc Romanek