Yesterday, the PCAOB issued a concept release about the content and possible uses of audit quality indicators, measures that may provide new insights into audit quality. Here's the press release – and fact sheet.
Today, the SEC will be proposing its clawback rules finally. For those in law firms, get ready to rumble with your memo writing skills…
PCAOB: Re-Re-Proposal to Seek Engagement Partner Name in a New Form (Not the Audit Report)
Yesterday, the PCAOB also issued a supplemental request for comment on whether to require auditors to file a new PCAOB Form AP to identify the name of an audit engagement partner – a different approach than the original 2011 proposal (that was re-proposed in '13) that would require name disclosure in the audit report itself. Comments are due by August 31st. Technically, I believe this is not a "re-re" proposal – rather, it's a supplemental request to the re-proposal. Here's the comments submitted to date…
Our July Eminders is Posted!
We have posted the July issue of our complimentary monthly email newsletter. Sign up today to receive it by simply inputting your email address!
Sights of the Society of Corporate Secretaries Conference
Saw many old friends & made some new ones at last week's annual conference for the Society of Corporate Secretaries:
Norfolk Southern's Ginny Fogg, Mondelēz' Carol Ward & DuPont's Erik Hoover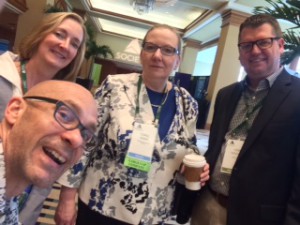 CT Corp's Tim Rooney, Sarah Brunet & Lisa Mann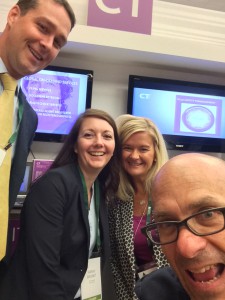 Awesome Georgeson/Computershare booth staffed by Donna Ackerly, Erik Schwendeman & Kerry Anderson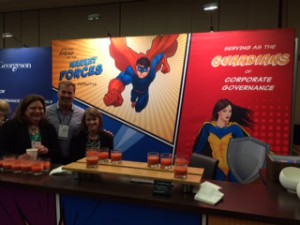 Met Jim McRitchie in person for the 1st time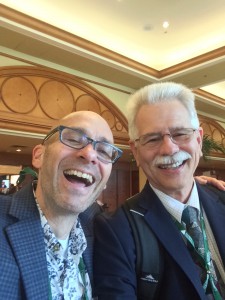 CSC's Neal Smith sporting his famous jacket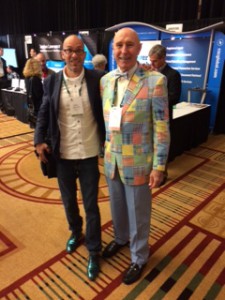 – Broc Romanek