Here's my reaction when I learned of this new development: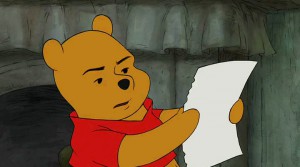 It looks like the Corp Fin Staff has reversed course on a line of proposals that asks the board to adopt a policy that the board chair shall be an independent director who is not a current or former employee of the company, and whose only nontrivial professional, familial or financial connection to the company or its CEO is the directorship. After Pfizer received a no-action response from the Staff in December allowing the exclusion of this type of proposal for being vague & indefinite under (i)(3) (which itself was an extension of this Abbott Labs letter dated 1/13/14 – there the proposal said that the directorship could be the "only connection" to the company and the Staff allowed exclusion as vague under (i)(3)), a number of companies filed similar no-action requests.
Then last week, the Staff started to issue responses to those requests (eg. this one to Boeing) and it appears to have changed its tune. Here's an excerpt from those Staff responses:
We are unable to concur in your view that ____ may exclude the proposal under rule 14a-8(i)(3). You have expressed your view that the proposal is vague and indefinite because it does not explain whether a director's stock ownership in accordance with the company's stock ownership guidelines is a permissible "financial connection." Although the staff has previously agreed that there is some basis for your view, upon further reflection, we are unable to conclude that the proposal, taken as a whole, is so vague or indefinite that it is rendered materially misleading. Accordingly, we do not believe that ______ may omit the proposal from its proxy materials in reliance on rule 14a-8(i)(3). (emphasis added)
I highlighted the "upon further reflection" language above because I don't recall ever seeing that language in a Staff response before. So with the (i)(9) debate raising the profile of the shareholder proposal process, it's possible that the playing field may continue to evolve for no-action requests under Rule 14a-8…
Add this to the list of things that will be discussed during our March 24th webcast: "Proxy Access: The Halftime Show"! Also check out this blog that I just posted in our "Proxy Season Blog" about shareholder proposals and the background of audit committee members…
Shareholder Proposals: Delay in No-Action Responses?
Last week, we got this query in our "Q&A Forum":
Any idea what is going on at Corp Fin? They haven't published a 14a-8 ruling in almost a week and I have clients who filed in mid-December – over 2 months ago – still waiting for a ruling. Many companies are going to press in the next week or two. Any insight?
The Corp Fin Staff works so hard on this thankless task that I am loathe to say it, but it does seem that they are behind – maybe not in numbers (it appears they have issued only slightly fewer letters compared to the same time last year and that could just be due to the time it takes to update their website), but by leaving some letters raising substantive arguments to be decided closer to 60 days after the requests were filed with the Staff. They may have fallen behind on the harder letters because they have been dealing with the sticky (i)(9) issue – and also because there are more no-action requests this year compared to last year. Moreover, even with the Staff declining to respond to the (i)(9) arguments, some of those would-be-and-now-partially-stunted requests raise arguments under other exclusion bases, plus some companies have filed supplemental requests raising alternate arguments since (i)(9) is no longer a viable argument this proxy season.
Remember that if you have a looming print deadline, you need to call the Staff and alert them to that as they typically make every effort to accommodate companies who might incur additional costs if they print belatedly. Or to accommodate companies facing a notice & access deadline as they need to know whether to include the proposal on the notice when they get it printed & mailed in time (ie. sending the notice at least 40 days in advance of the meeting date)…
Webcast: "Merger Filings with the SEC: Nuts & Bolts"
Tune in tomorrow for the DealLawyers.com webcast – "Merger Filings with the SEC: Nuts & Bolts" – to hear Dennis Garris of Alston & Bird, Laurie Green of Holland & Knight and Jim Moloney of Gibson Dunn discuss the nuts & bolts of preparing disclosure documents that are filed with the SEC, including practical guidance into what should be disclosed (or not disclosed) to minimize litigation risk – as well as how to handle common Corp Fin comments.
– Broc Romanek