We emerged from our basements and met up this week at the Skytop Strategies "Shareholder Activism ESG Super Summit." John & Lawrence were part of a fantastic speaker lineup. Here we are, living it up in 3D: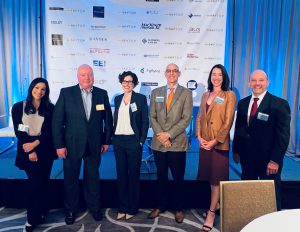 The CCRcorp contingent, L-to-R: Account Exec Kayla Talamantez, John, me, Lawrence, our Event Manager Victoria Newton, our Senior Sales Manager Chris Calaluca.
Pretty wild that many of us had never even met in person before, and it's been 3 years since John & I have seen each other. It's his birthday today – and anyone who has read this far should drop him a note to wish him a good one!
Programming note: In observance of Juneteenth, our office will be closed on Monday and we will not be publishing a blog. We will be back on Tuesday!
– Liz Dunshee