Looks like there is a brewing "turf war" as the Big 4 audit firms continue to provide more legal services – see this article about how EY just acquired a UK alternative legal services provider. And, as noted in this article, some general counsels are using the Big 4 for legal services (but remain wary). This blog suggests the ABA should get out of the way of this trend.
Here are a few thoughts contributed anonymously from members that I polled:
– The auditors are marketing machines, and I think they'd get a shot at ordinary course '34 Act compliance stuff pretty readily. They are more sophisticated than regional law firms on budgeting, and Six Sigma/process management stuff. I think that would be really appealing to GCs who've been driven nuts by law firms blowing through budgets.

– I don't know if it'll catch on with hard-core US securities work since my recollection is that the ethics rules prohibit non-lawyers from owning law firms in the US. But I think that's something that the legal industry disruptors keep predicting will change or be sidestepped…eventually. They'll probably get their foot in the door with governance and executive comp work and go from there?

– Can't see them getting a lot of high end stuff outside of tax, which they already own. The problem with the Big 4 is that once you get past their ability to initially form relationships, they generally aren't very good substantively at anything. All their best people leave and the partners are politically astute empty suits.

– The GC-Big 4 article is intriguing. My predecessor at my last in-house job went to a law firm run by EY about a dozen years ago. He lasted two years. It wasn't a fun job.

– My guess is they'll push the regulatory envelope by following the virtual law firm model in some fashion.
Also see this Bloomberg article, which notes how some law firms are cognizant of the competition coming from the Big 4 – and what they are doing to stave them off…
Society's Annual Conference: Come Say 'Hello'!
As usual, Liz & I will be attending the Society for Corporate Governance's annual conference – coming up at the end of June in San Diego – and this will be the first year that we will have a booth in the exhibit hall! Come by & say 'hello' – and meet some of the new members of our team: Mel, Albert, Larissa, Paige and Justin.
Vintage eRaider Swag!
A while back, I blogged a "vote counting" story that involved eRaider, a widely-media covered fund during the Internet boom in '90s that hoped to cash in on "message board" activism. eRaider's business model was to buy a 5% stake in small companies with good products, then get shareholders together to push for governance changes that would improve the company. The idea got a lot of publicity – but little "real life" traction and eRaider shut down in 2004.
Anyway, Lois Yurow sent in this pic of her vintage swag!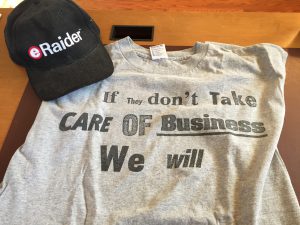 – Broc Romanek