Over the years, I have blogged many times about Evelyn Y. Davis – one of the more well-known shareholder proponents of all-time. I am sad to say that Evelyn passed away a few days ago. Here's the press release from her foundation. This CBS News article notes she was a concentration camp survivor. Here's a few of the things I've blogged about EYD over the years:
1. Shareholder Proposals: Evelyn Y. Davis ("Dougie" Version)
From 2014: I've vowed to step up my style of making videos – and one of my new styles is the jump-cutting that has made the Green brothers so successful. So see if you like this new version of my educational video about Evelyn Y. Davis:
2. Evelyn Davis: Your Stories
From 2016: I'm starting to collect anecdotes about Evelyn – please send me your stories (as always, I won't share them with attribution unless you give me permission). Here's the first batch:
– You are aware of her prostitution arrest at the United Nations (sexpionage is what the press called it) and her "business services" at a Lexington Avenue hotel in New York. Brief accounts in editions of New York Post and New York Daily News. This one comes from Jim Patterson.

– When my father was 94 last year and found out that Evelyn was still around and kicking, he was shocked – "that woman was old when I was young!" He was CFO of a company 40 or so years ago and had to deal with her. Mostly, he had to stop her from attacking his outside lawyer, who was a very good looking guy.

– I remember her and Donald Trump going at it at the Alexander's meeting many moons ago.
3. A Podcast with Evelyn Davis' Former Husband
From 2016: In this podcast, Jim Patterson discusses the life of his former wife, Evelyn Y. Davis, including:
– Can you tell us about Evelyn's childhood? For example, how did Evelyn's childhood arrest with her mother and brother by the Nazis in Amsterdam in the final months of WWII affect her life?
– How did you meet Evelyn?
– Can you tell us a story to illustrate how Evelyn felt about her activism work?
– Can you tell us a story about how Evelyn liked to stir it up sometimes at annual shareholder meetings?
– What was her "contribution" to financial reporting/journalism?
– I know Evelyn was active with charitable efforts. Can you tell us about that?
4. Evelyn Y. Davis: The Pictures
From 2016: Please send me your pictures of EYD too! From Jim Patterson, here's a pic of Evelyn from her 1st issue of "Highlights & Lowlights":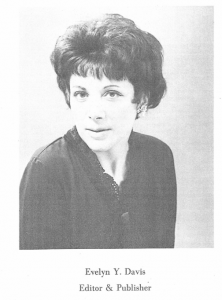 Here's EYD at a 1972 AT&T annual shareholders meeting: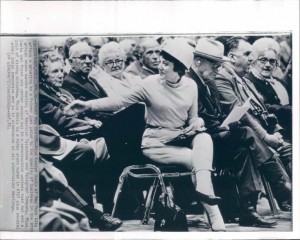 5. Evelyn Y. Davis: Retired?
From 2012: For many of you, the news that Evelyn Y. Davis is slowing down at age 82 will come as a mid-proxy season boost. As noted in this Reuters article, Evelyn has been skipping annual meetings this year – and even has halted production of her 47-year-old self-published newsletter "Highlights & Lowlights," a $600-an-issue review of her governance battles that regularly features photos of her with bemused CEOs. Although Evelyn still has been submitting shareholder proposals to companies, I haven't heard of her actually attending a meeting for the past two years.
For those of you who have never had the pleasure, go ahead and ask an old-timer for their favorite EYD story. Many of them are unsuitable for print in this family blog. I do note that she is partial to men, particularly if they are CEOs of a Fortune 50 company. Evelyn always had remarkable success with access to the powers that be – and making the CEO available to her often was a wise decision as it made it more likely that she wouldn't turn your shareholders meeting into a complete spectacle. One day I'll collect stories to post (including my own). I do note that Evelyn has been quite a philanthropist over the years, particularly in the effort to preserve Chicago history.
Until I post some stories, you'll have to live with this great WaPo piece from '03 – and this picture of Evelyn's pre-bought tombstone in DC (I believe its two divorces behind):
– Broc Romanek