We've blogged a few times about Vanguard's updated proxy voting guidelines and the impact they might be having on recent climate change proposals. We shouldn't overlook that Fidelity's also joined the party. Here's an excerpt from its updated "Proxy Voting Guidelines," which were previously silent on environmental & social issues:
FMR generally will vote in a manner consistent with management's recommendation on shareholder proposals concerning environmental or social issues, as it generally believes that management and the board are in the best position to determine how to address these matters. In certain cases, however, Fidelity may support shareholder proposals that request additional disclosures from companies regarding environmental or social issues, where it believes that the proposed disclosures could provide meaningful information to the investment management process without unduly burdening the company.

For example, Fidelity may support shareholder proposals calling for reports on sustainability, renewable energy, and environmental impact issues. Fidelity also may support proposals on issues such as equal employment, and board and workforce diversity
ExxonMobil's Climate Change Proposal: BlackRock's Analysis
I blogged a few weeks ago about the historic climate change proposal at ExxonMobil – it passed with 62% support. BlackRock voted in favor of the proposal, and this vote bulletin explains why. Here's a teaser:
The BlackRock Investment Stewardship team has identified climate risk disclosure, in line with the Task Force on Climate-related Financial Disclosures (TCFD), as one of our five engagement priorities for 2017-18.

In the past year, we've engaged more directly on Exxon's reporting of climate-related risks. We have also engaged with the shareholder proponents to better understand their views. We believe it is in long-term shareholders' best economic interests for Exxon to enhance its disclosures. We therefore voted in favor of the shareholder proposal focused on the 2-degree Celsius warming target (the "2-degree scenario") as outlined in the Paris Agreement under the United Nations Framework Convention on Climate Change.

In addition, we have repeatedly requested to meet with independent board directors over the past two years to better understand the board's oversight of the company's long-term strategy and capital allocation priorities amidst major strategic challenges and regulatory inquiry (including but not be limited to oversight of climate risk). The company declined to make directors available, citing a non-engagement policy between independent board members and shareholders.
So a couple takeaways here are – first, to understand your shareholders' priorities – and second, if a key shareholder asks to meet with directors…make it happen. Last week's blog has some tips on both of these topics.
Sustainability Reports: Published by 82% of the S&P 500
This recent Governance & Accountability Institute study found that 82% of the S&P 500 are publishing a sustainability or corporate responsibility report. Up from 20% just 5 years ago! Here's a chart that shows the declining number of non-reporters by industry: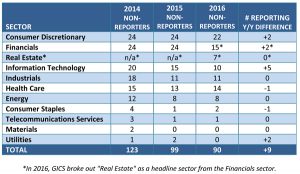 At our "Women's 100" Conferences, we heard from some institutional investors who look at sustainability as a risk issue – and not one that applies just to extractive industries. They want to understand what the company's doing to stay competitive for years to come. You can share this info in your proxy statement in the absence of a full-blown sustainability report, but still check out Clorox's "Integrated Report" – it's a cool example & shows what types of topics to cover. We have even more resources in our "ESG" Practice Area. And tune in for our October 10 webcast – "E&S Disclosures: The In-House Perspective" – featuring experts from the Coca-Cola Company, Bristol-Myers Squibb, Apple & Clorox.
– Liz Dunshee