Just coming back from a nice holiday in Japan & Hong Kong (see my pics on Instagram). Last Thursday marked my 15th anniversary – 15 years! – of my blither & bother on this blog (note the "DealLawyers.com Blog" is nearly 14 years old – not shabby!).
It's the one time of year that I feel entitled to toot my own horn – as it takes stamina & boldness to blog for so long. A hearty "thanks" to all those that read this blog for putting up with my personality. As I was one of the first lawyers to blog, my track record is among the longest as a blogger – lawyer or otherwise…
Japan/Hong Kong: Crowdfunding & Fund Ads

When I travel overseas, I keep my eye out for unique things that pertain to our field. One of the wildest things that I saw was a Bridgewater Associates video on the plane as we were landing in Hong Kong. Unfortunately, I can't find the video on the Internet – it shows a group of business people in a huge office realizing the value of crowdfunding – then, they all come together to push down the walls from the inside to collapse a huge Wall Street-looking building.
Even better was this poster ad that I saw in a Tokyo subway station. It promotes a Daiwa Securities fund – check out the dude's face in the middle. A look of utter fear! And one of these persons is a famous Japanese actor (Ken Watanabe – Godzilla, Last Samurai). It's like putting Tom Cruise's face on a prospectus.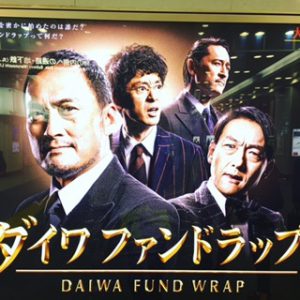 Cap'n Cashbags: 15 Years of Blogging
In this 20-second video, Cap'n Cashbags – a CEO – tries to convince his director friend that 15 years of blogging is worth celebrating…
– Broc Romanek