Andrew Abramowitz has an interesting take on the potential for crowdfunding & new Regulation A to tilt the playing field in favor of issuers:
Traditional capital-raising involves spending an enormous amount of time with potential investors, explaining the business, responding to due diligence requests, etc. In addition, when there is an investor syndicate rather than just one investor, the different members of the syndicate may have different requests/concerns, so the process is like herding cats. In contrast, at least in theory, with crowdfunding and Regulation A, once the proper disclosure is prepared and posted for investor review, the investors make their choices, and if there's enough interest, you just go ahead and close.

Of course, a potential crowdfunding investor can decide to ask detailed questions of the company and try to negotiate terms of the offering. However, the dynamic is different than the venture capital scenario if the questioning investor is proposing to invest, say, $1,000. The company may try to be responsive up to a point, but when the individual investments are in small increments, it's easier for the company to maintain a take it or leave it attitude.

Time will tell whether there is enough investor interest for crowdfunding to be a workable alternative to traditional methods of fundraising. But if we get to a point where a company only needs to take a week or so to put together the necessary disclosure, rather than taking out a few months or more to negotiate with individual investors, crowdfunding could prove to be an attractive way to do things.
Speaking of crowdfunding's potential to flip the script – check out VidAngel.  This company reportedly raised over $6 million in the first part of its Reg A+ offering in just two days. It took a break to blue sky the deal in more states, reopened it to investors – and promptly raised another $4 million in three days.  The deal's done – but the entertaining video offering circular lives on!
Reg AB: Corp Fin Issues Guidance for ABS Issuers
Corp Fin recently issued 23-pages of guidance for asset-backed issuers to help them file on Edgar, which has undergone programming changes that relate to revised Regulation AB and new Exchange Act Rule 15Ga-2. Not gonna lie – I have no idea what anything I just wrote means, but anyway, God bless. . .
Joe Hall on Life as a Corporate Lawyer
Check out this 30-minute podcast with Joe Hall of Davis Polk in Manhattan, another born n' bred big legal mind. With nearly 30 years of practice under his belt, Joe leads the corporate governance practice at Davis Polk – one of Broc's favorite law firms – and has a wealth of capital markets experience, both on the issuer and the underwriter side.
Joe has left Davis Polk twice: once to go in-house for a few years and once to work for SEC Chair Bill Donaldson in DC, during the height of Sarbanes-Oxley rulemaking – but has always returned to what he feels is his true home, Davis Polk.
More recently, Joe has led his firm into the art of podcasting – launching the firm's "Before the Board" podcast series. Check it out on iTunes & other platforms today!
This podcast is also posted as part of our "Big Legal Minds" podcast series. Remember that these podcasts are also available on iTunes or Google Play (use the "My Podcasts" app on your iPhone and search for "Big Legal Minds"; you can subscribe to the feed so that any new podcast automatically downloads…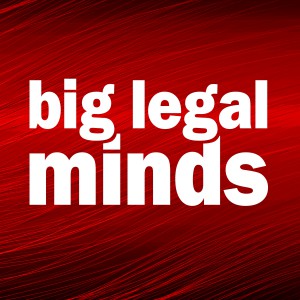 – John Jenkins