On the heels of Corp Fin's announcement back in January that it would no longer scan & post glossy annual reports on Edgar, Corp Fin issued this CDI on Wednesday (note that the CDI is unnumbered):
Question: Exchange Act Rule 14a-3(c) and Rule 14c-3(b) require registrants to mail seven copies of the annual report sent to security holders to the Commission "solely for its information." A similar provision in Form 10-K requires certain Section 15(d) registrants to furnish to the Commission "for its information" four copies of any annual report to security holders. Can a registrant satisfy these requirements by means other than physical delivery or electronic delivery pursuant to Rule 101(b)(1) of Regulation S-T?

Answer: Yes. The Division will not object if a company posts an electronic version of its annual report to its corporate web site by the dates specified in Rule 14a-3(c), Rule 14c-3(b) and Form 10-K respectively, in lieu of mailing paper copies or submitting it on EDGAR. If the report remains accessible for at least one year after posting, the staff will consider it available for its information.
This is good news as there has been a ton of confusion, as evident from a few threads in our "Q&A Forum" over the years (see #8728 and #7894). Companies have had the option to Edgarize their annual report & have that count as furnishing the 7 copies for a while – but that's a real hassle & can be costly with graphics, etc. So this is an early holiday present from the Staff. I'll be posting an updated "Annual Report & 10-K Wrap Handbook" next week – including addressing the issue that I just blogged on the "Proxy Season Blog" about "The NYSE Doesn't Think 'Proxy Materials' Includes the Glossy Annual Report?"…
You might wonder what the Corp Fin Staff does with all those glossy annual reports over the years. They're stuffed into metallic cabinets & rarely touched – at least back in my day (when the '34 Act reviews were fairly rare). There was a stir back then after Mustang Ranch tried to go public in '89 – and I can't remember what the filing was, perhaps the red herring – but it was in a cabinet for some reason & created a stir…
Form S-3's "Baby Shelfs": A New CDI
As noted in this Cooley blog, Corp Fin also issued this new CDI 116.25 about Form S-3's General Instructions I.B.1 to I.B.6 a few days ago:
Question: An issuer with less than $75 million in public float is eligible to use Form S-3 for a primary offering in reliance on Instruction I.B.6, which permits it to sell no more than one-third of its public float within a 12-month period. May it sell securities to the same investor(s), with a portion coming from a takedown from its shelf registration statement for which it is relying on Instruction I.B.6 and a portion coming from a separate private placement that it concurrently registers for resale on a separate Form S-3 in reliance on Instruction I.B.3, if the aggregate number of shares sold exceeds the Instruction I.B.6 limitation that would be available to the issuer at that time?

Answer: No. Because we believe that this offering structure evades the offering size limitations of Instruction I.B.6, the securities registered for resale on Form S-3 should be counted against the issuer's available capacity under Instruction I.B.6. Accordingly, an issuer may not rely on Instruction I.B.3 to register the resale of the balance of the securities on Form S-3 unless it has sufficient capacity under Instruction I.B.6 to issue that amount of securities at the time of filing the resale registration statement. If it does not, it would need to either register the resale on Form S-1 or wait until it has sufficient capacity under that instruction to register the resale on Form S-3.
17 Years of Cubs Programs
Growing up near Wrigley Field, I'm gloating with this 10-second video displaying my 17 years of Cubs programs (went to Lane Tech High after Walt Disney Magnet for grade school):
Here's the inside cover of the 1958 program. Back when you could order a cheese sandwich for only a quarter & a beer was just 10¢ more…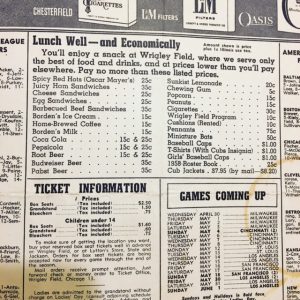 – Broc Romanek