The CFA Institute's recent, creative online forum – "Executive Pay Disclosure in the Say-on-Pay Era" – is a convenient way for practitioners and boards to access the views of key, seasoned stakeholders in executive compensation engagement and disclosure.
In the forum, ISS's Carol Bowie, Apache director & former Compensation Committee Chair Chip Lawrence, Covington & Burling's Keir Gumbs, Towers Watson James Kroll, Prudential's Peggy Foran and NIRI's Ted Allen weigh in on a series of practical questions posed by CFA Institute Moderator, Matt Orsagh including:
What do investors want from the CD&A section of the proxy statement?
What are some of the most significant improvements you have seen in the CD&A over the past 5–10 years? Please highlight some best practices that investors have found helpful.
What is the state of engagement around executive compensation between companies and investors? How has increased engagement improved the CD&A?
Re: engagement – who should be involved in the process from a companies point of view? At what point does the compensation committee speak with investors about compensation issues?
What process do issuers go through in creating a strong CD&A — who is involved, what is the timeline?
For small-cap and mid-cap companies with limited resources to devote to the CD&A, what are some of the most important things to focus on?
Is the CD&A all about "say on pay" these days or are there other substantive issues at play?
Are there any nascent compensation issues you expect to grow in importance this proxy season or in coming years?
See Matt's blog about the forum and the CFA Institute's CD&A Template.
Compensation Peer Group Analytics
Audit Analytics' recent analysis of Russell 3000 executive pay peer groups revealed these and other interesting findings:
– Notwithstanding the fact that pay benchmarking peers usually include close competitors, companies of similar size and stature, regional companies, etc., 12 of the 13 companies most frequently named as a peer by others (at least 44 times) are considered manufacturing companies according to their SIC codes, and all are mature – with more than half having been public since at least 1965.
– Ten companies listed 100 or more peers (one company listed 366 peers), whereas the typical peer group for this index consists of 17 peers: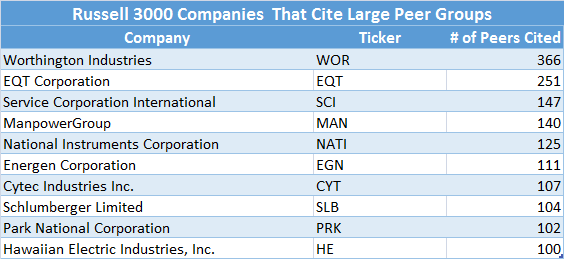 – Some companies don't use any outside peers or other benchmarks.
– The most frequently cited peer company, 3M Company, disclosed in its March 2015 proxy statement  the following compensation peer group selection factors:
Peer companies are monitored regularly by the same market analysts who monitor the performance of 3M (investment peers); and/or
Peer companies have similar business and pay models, market capitalization (based on an eight-quarter rolling average), and annual revenues.
Webcast: "Proxy Drafting – Mid-Cap & Smaller Company Perspective"
Tune in tomorrow, Wednesday, January 20th for the webcast – "Proxy Drafting: Mid-Cap & Smaller Company Perspective" – to hear Gunderson Dettmer's Richard Blake, Denbury Resources' Sarah Wood Braley, Covington & Burling's Keir Gumbs, KBR's Adam Kramer and JetBlue Airways' Eileen McCarthy provide practice pointers on what approaches to preparing the proxy for mid-cap & smaller companies work best. Please print these "Course Materials" in advance.
– by Randi Val Morrison