It's been two years since the SEC proposed its crowdfunding rules – a long wait for those providers hoping to jump into that space – and the SEC has now noticed an open Commission meeting to be held tomorrow to adopt them. See this Forbes article – and this Crowdfund Insider article (which incorrectly states that "five" Commissioners will vote on the rule; the Commission is now down to 4 Commissioners as Dan Gallagher has moved on – even though he's still listed on the SEC site).
At the open Commission meeting, the SEC will also propose amendments to Securities Act Rule 147 and Rule 504. Yesterday, Chair White delivered this speech on offering reform…
ISS Issues Draft Policies: November 9th Deadline
A few days ago, ISS released their 2016 policy changes for review (drawn partially from these survey results issued last month). The three US topics are: Unilateral Board Actions; Director Overboarding; and Compensation at Externally-Managed Issuers. Comments on the proposed policy changes are due by November 9th, with the final policy changes expected to be released a few weeks later on November 18th…
At our Conference here in beautiful San Diego, Bob McCormick of Glass Lewis indicated their draft policies would be out in a few weeks…
Pay Ratio: Dave & Marty Go Puppets!
For those that missed the "Proxy Disclosure Conference" on Tuesday, the seven PEP Talks (think "Ted Talk") were a big hit – and the annual comedy routine from Dave Lynn & Marty Dunn went to the puppets! More on this – and the amazing song from Jones Day's Wendy Davis – next week (the video archives of all these and more are now available)…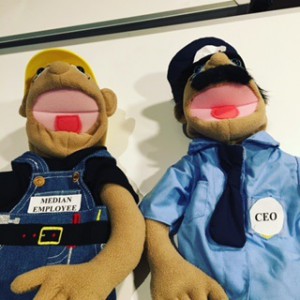 – Broc Romanek