Like last year, Verizon has put out a new "2015 Data Breach Investigations Report." This year's Verizon report is 69 pages, with a host of useful information as it relies on over 80,000 incidents from 70 organizations for it's analysis. Also check out our checklists related to incident response planning, disclosure practices and risk management – as well as a chart of state laws related to security breaches.
Here are other notable resources to read:
– DarkMatters' "One-Third of Boards of Directors Receive Zero Updates on Cyber Security"
– OTA's "Over 90% of Data Breaches in 2014 Could Have Been Prevented"
– D&O Discourse's "Cybersecurity Securities Class Actions: A Wave or Trickle?"
– D&O Diary's "Thinking About the Data Breach Securities Class Action Lawsuits Yet to Come"
– The Conference Board's blog with a sample memo to insiders
– D&O Diary's "That Time the Entire Cyber Security Exposure Narrative Changed"
Also see this article entitled "SEC Reveals It Doesn't Use Email Snooping Power It Defends." And also not directly cyber-related, but I loved the blogging style of Narges Kakalia of Mintz Levin for this "Risk Management, Indemnification and D&O Coverage — Texas Wall Street Women Style." A personal touch when blogging makes it more inviting because its "human"…
CEO Drastically Cuts Own Pay & Raises Pay of All His Employees
Here's the intro to this NY Times article that everyone is talking about:
The idea began percolating, said Dan Price, the founder of Gravity Payments, after he read an article on happiness. It showed that, for people who earn less than about $70,000, extra money makes a big difference in their lives.

His idea bubbled into reality on Monday afternoon, when Mr. Price surprised his 120-person staff by announcing that he planned over the next three years to raise the salary of even the lowest-paid clerk, customer service representative and salesman to a minimum of $70,000. "Is anyone else freaking out right now?" Mr. Price asked after the clapping and whooping died down into a few moments of stunned silence. "I'm kind of freaking out."

If it's a publicity stunt, it's a costly one. Mr. Price, who started the Seattle-based credit-card payment processing firm in 2004 at the age of 19, said he would pay for the wage increases by cutting his own salary from nearly $1 million to $70,000 and using 75 to 80 percent of the company's anticipated $2.2 million in profit this year. The paychecks of about 70 employees will grow, with 30 ultimately doubling their salaries, according to Ryan Pirkle, a company spokesman. The average salary at Gravity is $48,000 a year.
Subway Marketing to the SEC Continues
I've blogged before how some folks buy poster ads in the subway station near the SEC's HQ (ie. Union Station) in an effort to influence the SEC. The latest poster is this one: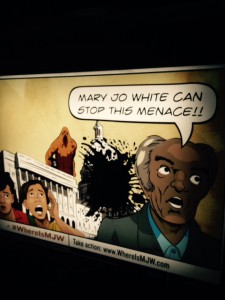 – Broc Romanek