Appreciate the many folks – and I truly mean "many" (the power of this blog is that it's community-based, so keep that feedback coming!) – who forwarded the first Form SD filed with the SEC yesterday. Filed well ahead of the June 2nd deadline for some reason – maybe because the company is based in Taiwan? Siliconware Precision Industries' Form SD probably should not be used as a template. It will be interesting to see how Corp Fin will go about policing – and enforcing – these Forms during the first year. New disclosure requirements are always challenging – with a wide range of quality. Here are some comments I received from members about this first filing:
– If this is the baseline, we are looking to be in good shape
– While I don't endorse a lot of detail, this one is almost beyond bare bones
– Good example of "what not to do"
– Interesting that they state that certain products are "conflict free" although they are overall "undeterminable," which seems to directly conflict with the recent FAQs
– The registrant described its conflict minerals status as "DRC Conflict free," but no audit was included
– This thing is totally bizarre
Don't forget the transcript for our popular webcast – "Conflict Minerals: Tackling Your 1st Form SD" – during which Meredith Cross and Dave Lynn imparted lots of important last-minute guidance (which is still valid despite last week's court case). Meanwhile, some members of Congress wrote this letter to SEC Chair White, urging her to implement the conflict mineral rules as originally scheduled…
7 Ways to Sleep at Shareholder Meetings
This blog says it all about a picture being worth a thousand words. Vanessa Schoenthaler blogs about this fight letter that was filed in the Harvard Illinois Bancorp proxy fight, which features a picture of the company's chair sleeping during last year's annual shareholders meeting. Also see this DealBook piece and this article.
In the wake of this "fight letter" being in the news, Dr. Jimmy sits down with me to analyze what sleeping at an annual shareholder meeting really means in this 2-minute video:
Old-Timers Rule! Irv Borochoff Sighting!
At Mauri Osheroff's emotional retirement party yesterday, people came back that hadn't been seen in many years. Former Assistant Director Irv Borochoff – who retired 20 years ago – was among those. Irv was highly respected during his tenure. With him is Bob Belluck, who served under Herb Scholl back in the day (and is still in Corp Fin):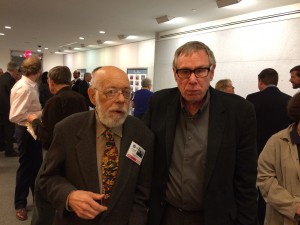 Here's one note I receive about Irv: "He was a fabulous Assistant Director – so smart and so caring. Some staff members were afraid of Irv but as long as a staff member admitted to not knowing the answer to one of his questions but volunteered to find the answer right away Irv was fine. However, Irv had no patience for staff members who tried to "bluff" him."
– Broc Romanek