Yesterday, Corp Fin issued 2 new CDIs – and one revised CDI – on instrastate offerings. As Joe Wallin blogged, they are important because they relate to state-level equity crowdfunding, and how to conduct a state-level equity crowdfunding offering without falling into federal law. Here they are:
– Revised Question 141.03
– New Question 141.04
– New Question 141.05
Meanwhile, SEC Commissioners Aguilar and Stein each delivered a speech at the NASAA's annual conference this week…
Drafting Disclosure: Can a Robot Do Your Job?
I like the idea of Rosie from the Jetson's banging out a prospectus. Except perhaps when it's real. The consulting arm of Seyfarth Shaw has announced "Disclosure Dragon" software that "automates, expedites and standardizes the development of a private placement memorandum (or other required disclosure documents depending on the type of offering) and supporting exhibits." The announcement notes that further legal review is required – but that it could save up to 80% of the costs involved.
I'm not convinced there is much in the way of costs for creating crowdfunding documents anyways. From what I hear, under many state crowdfunding statutes, out-of-pocket legal costs will be less expensive than a what a SCOR costs today. Thoughts?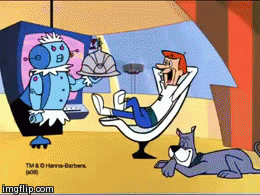 State Crowdfunding Laws: If You Build It…
Hat's off to Davis Wright Tremaine's Joe Wallin who drafted a crowdfunding bill on his own and blogged about it – and before you know it, Washington State's Governor was signing it into law! Here are some FAQs on Washington's new law – and Bill Carleton maintains this web page with many state laws on crowdfunding…
Meanwhile, here are other crowdfunding stories:
– David Seifer & Taylor White's "Board Of Contributors: Oculus Sale Angers Crowdfunding Supporters"
– Time's "When Crowdfunding Goes Corporate: Kickstarter Backers Vent Over Facebook's Oculus Buy"
– NY Times' "Retail Businesses That Try Crowdfunding Face Some Skepticism"
– Broc Romanek