Inside Track with Broc: Willy Wonka on Brown Paper Envelopes (3/5/09)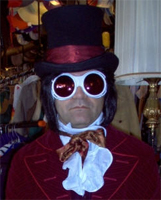 Willy Wonka is in charge of a chocolate factory
In this podcast, Willy explains how investors can unwittingly give their money to impersonators of SEC employees (ala this SEC press release), including:
What it means when someone pretends to be an SEC examiner?
What one can do when asked for small bills?
How far will one go to cooperate with the SEC?
Listen Here:
1. Streaming Audio (for faster play)

2. Download Audio (to place on iPod, etc.)
How to Listen to This Podcast: Simply click on the link above and your computer likely will enable you to listen to the podcast.