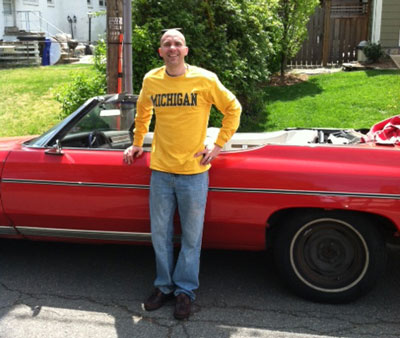 About Broc Romanek
Broc Romanek is Editor of TheCorporateCounsel.net, CompensationStandards.com, DealLawyers.com and CorporateAffairs.tv. He also serves as Editor for these print newsletters: Deal Lawyers and the Corporate Governance Advisor. He is Commissioner of TheCorporateCounsel.net's "Blue Justice League" and curator of its "Deal Cube Museum." Here's one of his blogs (he has six altogether), Twitter handle and YouTube channel.
Broc also is an author of these Treatises: Romanek's "Proxy Season Disclosure Treatise & Reporting Guide"; Romanek's "In-House Essentials Treatise"; Morrison & Romanek's "The Corporate Governance Treatise" and Lynn, Borges & Romanek's "Executive Compensation Disclosure Treatise." He also is the author of the paperbacks: "Reg FD Tales," "Section 16 Tales" and "101 Pro Tips - Career Advice for the Ages."
Broc also serves as producer & host of "Big Legal Minds," a podcast series filled news & analysis for the corporate & securities law - and corporate governance - community, including interviews of the most interesting people in that community.
Broc is a four-time Chair of the Mid-Atlantic Chapter of the Society of Corporate Secretaries & Governance Professionals and has served on that Chapter's board for 20 years. He is a former member of the Society's National Board of Directors (having served two terms). He also is a Past Chair of the Association of Corporate Counsel's Corporate & Securities Law Committee and formerly served on the Advisory Council for the SEC Historical Society. He has taught a class in corporate governance for the George Mason University Executive MBA program and a Securities Regulation course at George Mason Law School.
Before his time at TheCorporateCounsel.net, Broc was Founder and Editor of RealCorporateLawyer.com. In addition, he has served as Assistant General Counsel at a Fortune 50 company, was in the Office of Chief Counsel of the SEC's Division of Corporation Finance, acted as Counselor to former SEC Commissioner Unger and was in private practice.
He frequently writes and speaks about corporate and securities law and has been blogging for over 15 years on TheCorporateCounsel.net (and maintains five other blogs as well). He has a BBA from the University of Michigan and a JD from the University of Maryland. Broc is a certified hypnotist.
Broc can be reached at broc.romanek@thecorporatecounsel.net or 703.237.9222.